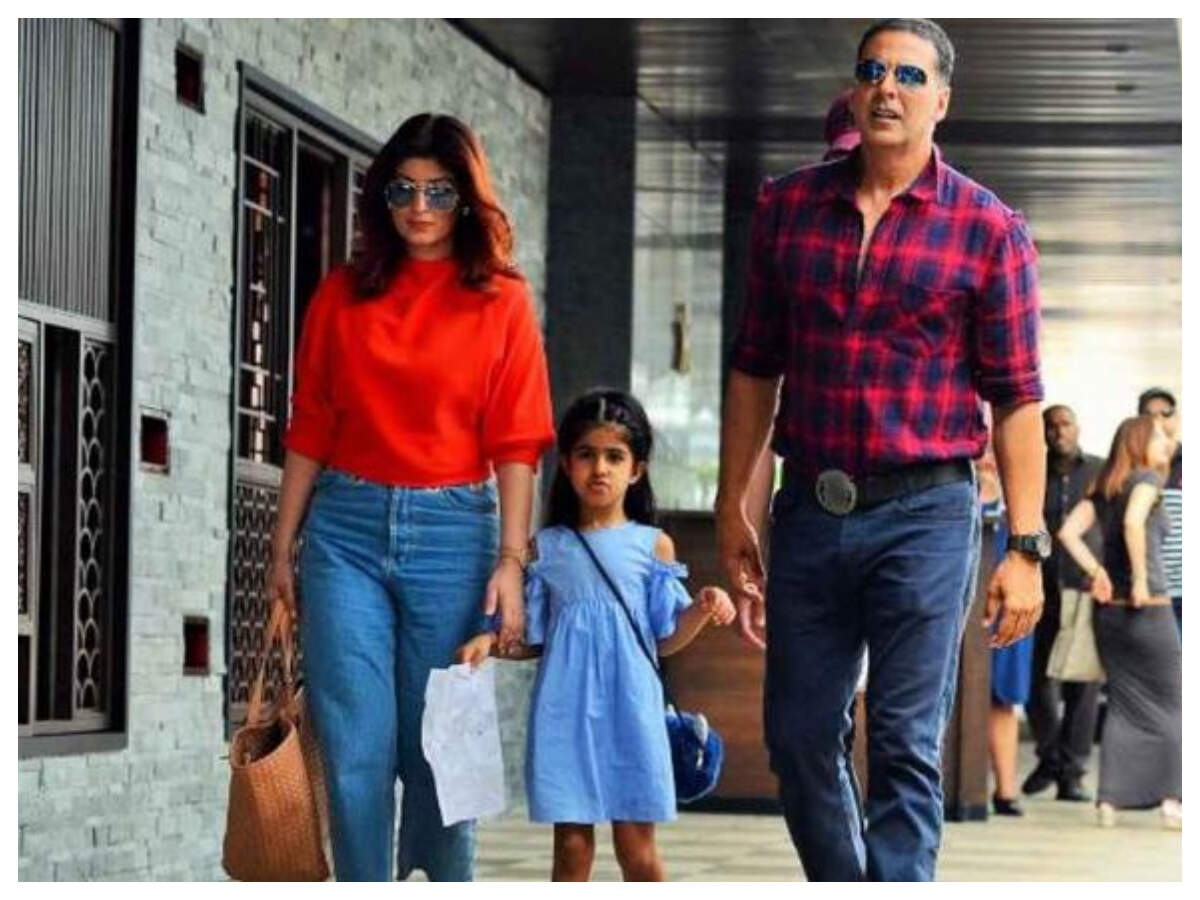 Apart from being an actress and an author, Twinkle Khanna is a hands-on mother to her two kids – Aarav and Nitara. The actress is most often seen sharing pictures of her kids on her social media handles. She recently shared a spooky video featuring Nitara and her friend and it is sure to make a chill run down your spine. Taking to her Instagram handle, she shared a video of Nitara and her friend who were having a sleepover at their place. Twinkle, being her creative self, recreated a scary scene from a horror film with Nitara and her girlfriend.
Check out the video here:

In the video, Nitara can be seen dressed in a red and white striped sleepwear standing near a glass window with her hair covering her face while her friend, twinning in the same attire, joins her. With intense thriller music in the background, the video is sure to make you sweat in fear.
Twinkle captioned the video as, 'The dictionary definition of a win-win situation-When they want to have a sleepover and you get a chance to recreate scenes from horror movies #Typewriter'
Twinkle had recently given her fans a glimpse of her son Aarav's cooking calibre by sharing the pictures of the dishes he cooked for them.
While he seems like he might be a chef in the making, the star kid is still studying and is yet to take a call on his career.
Meanwhile, Akshay has his hands full of films which include, 'Housefull 4', 'Sooryavanshi', 'Bachchan Panday', 'Good News' and 'Laxmmi Bomb'.
Apart from being an actress and an author, Twinkle Khanna is a hands-on mother to her two kids – Aarav and Nitara. The actress is most often seen sharing pictures of her kids on her social media handles. She recently shared a spooky video featuring Nitara and her friend and it is sure to make a chill run down your spine.
Taking to her Instagram handle, she shared a video of Nitara and her friend who were having a sleepover at their place. Twinkle, being her creative self, recreated a scary scene from a horror film with Nitara and her girlfriend.

Check out the video here:

View this post on Instagram
The dictionary definition of a win-win situation-When they want to have a sleepover and you get a chance to recreate scenes from horror movies #Typewriter

In the video, Nitara can be seen dressed in a red and white striped sleepwear standing near a glass window with her hair covering her face while her friend, twinning in the same attire, joins her. With intense thriller music in the background, the video is sure to make you sweat in fear.

Twinkle captioned the video as, 'The dictionary definition of a win-win situation-When they want to have a sleepover and you get a chance to recreate scenes from horror movies #Typewriter'

Twinkle had recently given her fans a glimpse of her son Aarav's cooking calibre by sharing the pictures of the dishes he cooked for them.

While he seems like he might be a chef in the making, the star kid is still studying and is yet to take a call on his career.

Meanwhile, Akshay has his hands full of films which include, 'Housefull 4', 'Sooryavanshi', 'Bachchan Panday', 'Good News' and 'Laxmmi Bomb'.

[…]