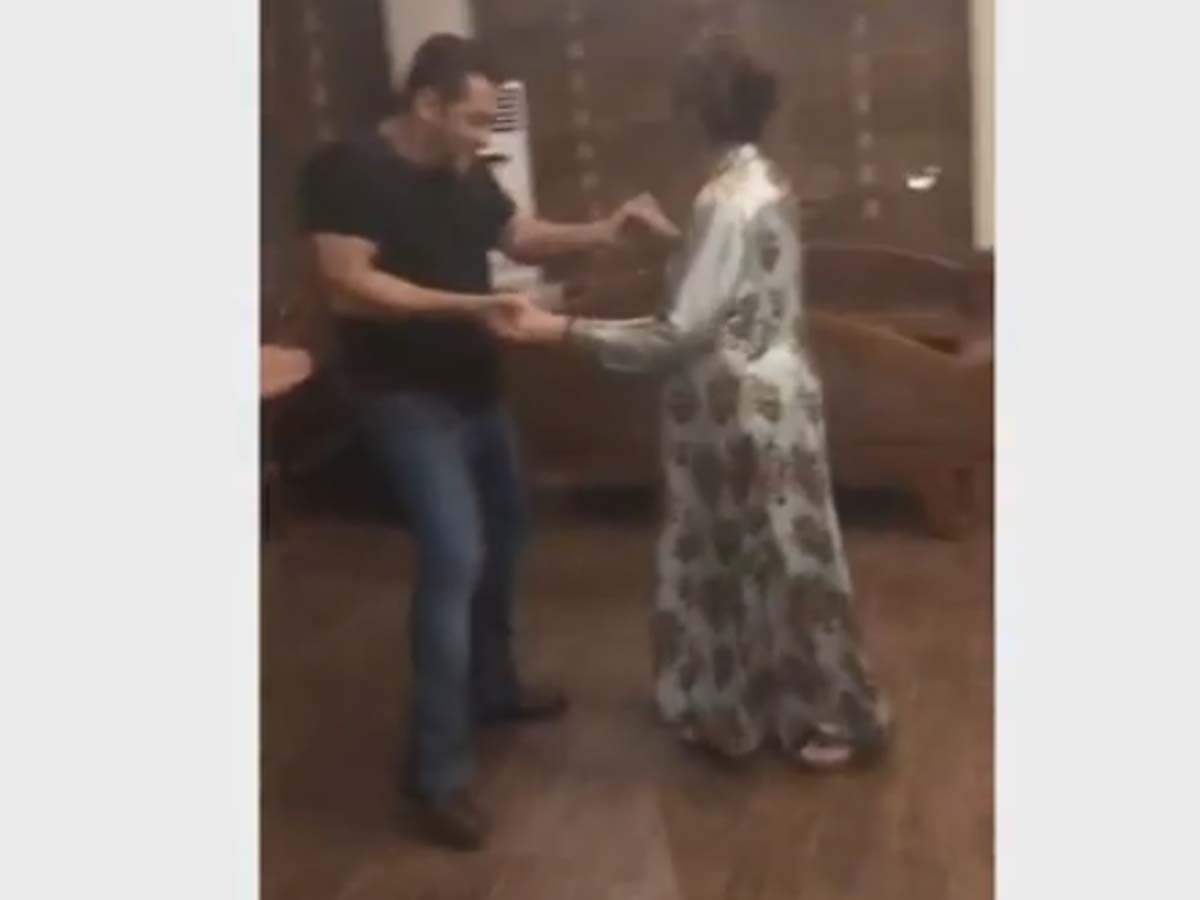 We all knew Salman Khan shares a special bond with everyone in his family. His social media posts related to his big family go viral in no time. Moreover, they are appreciated and liked by his fans as well. All thanks to the warmness that reflects through his posts. Once again the 'Dabangg 3' actor has come up with yet another video and we are sure the post will surely melt your hearts.
Salman shared an extremely adorable video wherein he is shaking a leg with his beloved mother Salma on a Hollywood hit pop song, 'Sia's "Cheap Thrills" ft. by Sean Paul and the video is nothing but adorable. In the video both Salman and his mom are engrossed in the dance session and we can literally feel the incredible bond which Salman shares with his mother. However, as we say mothers will be mothers, at the end of the video we can see Salma aunty asking the shooter to stop the video.
Salman captioned the video as, "Mom is saying band karo yeh naach ganna.." This particular post by Salman had received appreciation by his fans and celebs like Varun Dhawan, Sophie Choudhry and Esha Gupta have commented on the post so far.
Check out the video here:
Salman Khan often share videos of his nephews Ahil and Yohaan which go viral. Also some of his videos with brothers Sohail and Arbaaz are appreciated. Earlier, during the release of his film 'Bharat', he had shared a video wherein his father Salim Khan is crooning an old classic.
On the professional front, Salman Khan will soon complete the shooting of 'Dabangg 3' after which he shall start working on Sanjay Leela Bhansali's 'Inshallah' and a few other sequels which are line-up.
We all knew Salman Khan shares a special bond with everyone in his family. His social media posts related to his big family go viral in no time. Moreover, they are appreciated and liked by his fans as well. All thanks to the warmness that reflects through his posts. Once again the 'Dabangg 3' actor has come up with yet another video and we are sure the post will surely melt your hearts.

Salman shared an extremely adorable video wherein he is shaking a leg with his beloved mother Salma on a Hollywood hit pop song, 'Sia's "Cheap Thrills" ft. by Sean Paul and the video is nothing but adorable. In the video both Salman and his mom are engrossed in the dance session and we can literally feel the incredible bond which Salman shares with his mother. However, as we say mothers will be mothers, at the end of the video we can see Salma aunty asking the shooter to stop the video.

Salman captioned the video as, "Mom is saying band karo yeh naach ganna.." This particular post by Salman had received appreciation by his fans and celebs like Varun Dhawan, Sophie Choudhry and Esha Gupta have commented on the post so far.

Check out the video here:

Salman Khan often share videos of his nephews Ahil and Yohaan which go viral. Also some of his videos with brothers Sohail and Arbaaz are appreciated. Earlier, during the release of his film 'Bharat', he had shared a video wherein his father Salim Khan is crooning an old classic.

On the professional front, Salman Khan will soon complete the shooting of 'Dabangg 3' after which he shall start working on Sanjay Leela Bhansali's 'Inshallah' and a few other sequels which are line-up.

[…]