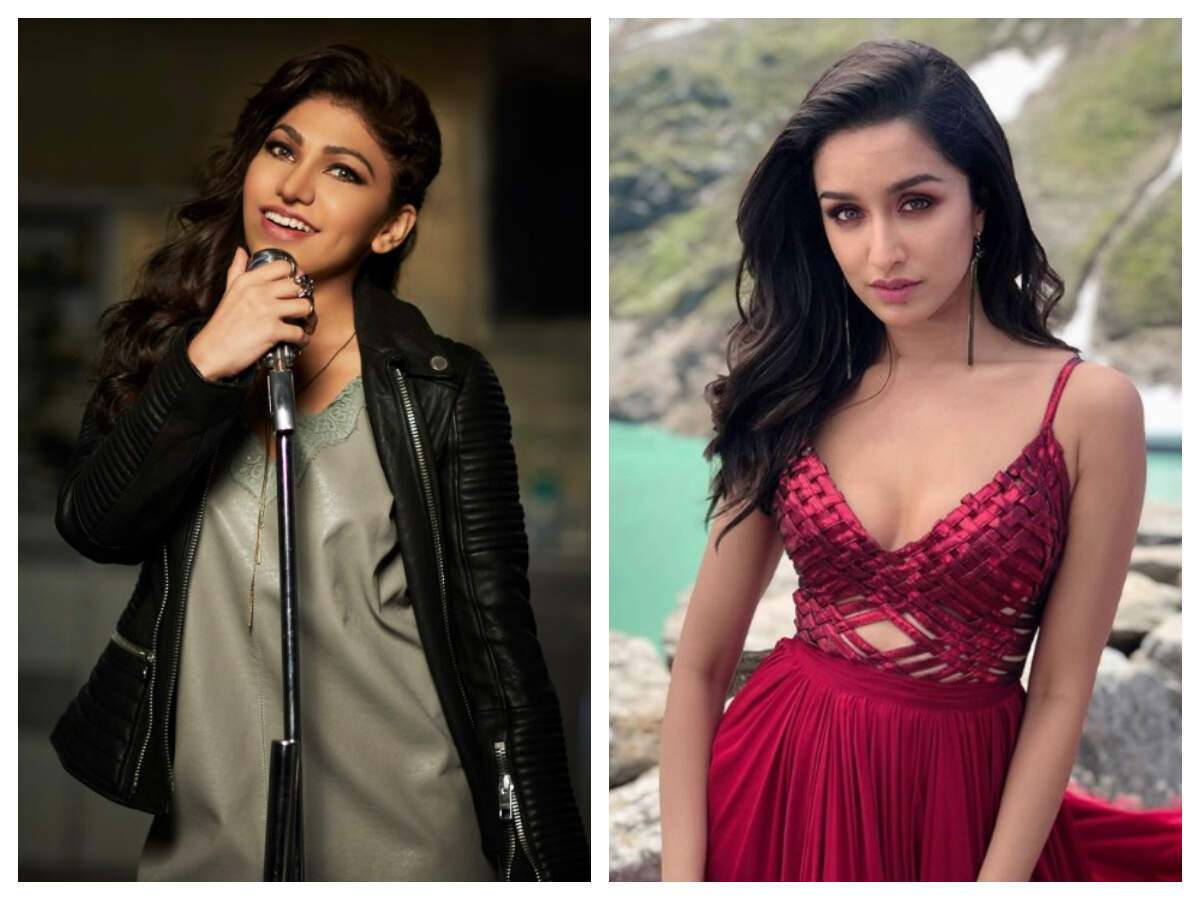 'O Saki Saki' with a twist, she has done it all. Tulsi Kumar is experimenting with different genres and mind you, she is acing it too! The singer recently got candid with Etimes where she opened her heart out on her newfound tone, doing playback for Raveena Tandon and being the voice of Shraddha Kapoor, once again, after her successful 'Aashiqui 2' stint. Here are the excerpts from the interview:
After a series of soothing romantic numbers, you are now experimenting with your tone. Tell us something about it.
I think it is very important to constantly rework yourself and discover new things. More than anyone else, you should try to challenge yourself to do better. Some people still tell me to stick to one genre. I have established myself by singing soft romantic numbers for the past 10 years. Now, I feel it is time to try something different. When I sang songs like 'O Saki Saki' and 'Sheher Ki Ladki', I was very nervous about the reaction I was going to get. Whenever I sing on a different scale, I sound very different. However, I have learned that I can experiment with my tone. I am trying to deliver a better version of me with every new song now.
How was your experience recreating and singing 'Sheher Ki Ladki' from 'Khandaani Shafakhana'?
'Sheher Ki Ladki' is an iconic song from the 90s. When attempted this song, I knew it has to sound different from the way my romantic numbers. It has the flavor of the 90s, but there was a new composition too when Raveena comes in. That chunk is a completely new melody. I was excited to sing for Raveena Tandon ma'am. I grew up watching her films. 'Sheher Ki Ladki' was out when I was growing up and here I am, getting an opportunity sing for her. I went on the sets to meet her and it was a great experience. This song broadened my spectrum.
What do you have to say about all the fuss that was created over the remake of 'O Saki Saki'?
'O Saki Saki' is a mega-track. It is very powerful, in terms music, lyrics, and beats. A lot was said about the recreated version but one has to acknowledge that it is done differently and yet maintained the essence of the original. It is great when a song is recreated tastefully, and the credit goes to Tanishk Bagchi. The song is two weeks old and people from the music industry are still messaging me saying that they loved my newfound tone. It is a huge compliment because when I was dubbing in the studio, I knew that Nora would be killing it with her moves and the voice has to be power-packed, sensuous and expressive. That ada and nakhra too had to come in the voice.
You recently rendered your voice for 'Enni Soni' from 'Saaho'.
'Enni Soni' is a romantic number, but it has a certain vibe that fits everywhere. It has a universal appeal. I have sung both the Hindi and Telugu versions. It is always good to be Shraddha Kapoor's voice. 'Aashiqui 2' was the first film where I was her voice and now 'Saaho'. I hope that the magic of 'Aashiqui 2' is recreated and the film also does amazingly well.
You have also sung the Telugu version of 'Enni Soni'. How difficult is it to sing in a language you do not understand?
It was a challenge but people have positively accepted me. It is my first Telugu song. Whenever I sing in a different language, I make sure I have a language expert sitting there with me to correct my diction and to understand what I am singing. Telugu is a language which you can memorize very quickly.
'O Saki Saki' with a twist, she has done it all. Tulsi Kumar is experimenting with different genres and mind you, she is acing it too! The singer recently got candid with Etimes where she opened her heart out on her newfound tone, doing playback for Raveena Tandon and being the voice of Shraddha Kapoor, once again, after her successful 'Aashiqui 2' stint. Here are the excerpts from the interview:

After a series of soothing romantic numbers, you are now experimenting with your tone. Tell us something about it.
I think it is very important to constantly rework yourself and discover new things. More than anyone else, you should try to challenge yourself to do better. Some people still tell me to stick to one genre. I have established myself by singing soft romantic numbers for the past 10 years. Now, I feel it is time to try something different. When I sang songs like 'O Saki Saki' and 'Sheher Ki Ladki', I was very nervous about the reaction I was going to get. Whenever I sing on a different scale, I sound very different. However, I have learned that I can experiment with my tone. I am trying to deliver a better version of me with every new song now.

How was your experience recreating and singing 'Sheher Ki Ladki' from 'Khandaani Shafakhana'?
'Sheher Ki Ladki' is an iconic song from the 90s. When attempted this song, I knew it has to sound different from the way my romantic numbers. It has the flavor of the 90s, but there was a new composition too when Raveena comes in. That chunk is a completely new melody. I was excited to sing for Raveena Tandon ma'am. I grew up watching her films. 'Sheher Ki Ladki' was out when I was growing up and here I am, getting an opportunity sing for her. I went on the sets to meet her and it was a great experience. This song broadened my spectrum.

What do you have to say about all the fuss that was created over the remake of 'O Saki Saki'?
'O Saki Saki' is a mega-track. It is very powerful, in terms music, lyrics, and beats. A lot was said about the recreated version but one has to acknowledge that it is done differently and yet maintained the essence of the original. It is great when a song is recreated tastefully, and the credit goes to Tanishk Bagchi. The song is two weeks old and people from the music industry are still messaging me saying that they loved my newfound tone. It is a huge compliment because when I was dubbing in the studio, I knew that Nora would be killing it with her moves and the voice has to be power-packed, sensuous and expressive. That ada and nakhra too had to come in the voice.

You recently rendered your voice for 'Enni Soni' from 'Saaho'.
'Enni Soni' is a romantic number, but it has a certain vibe that fits everywhere. It has a universal appeal. I have sung both the Hindi and Telugu versions. It is always good to be Shraddha Kapoor's voice. 'Aashiqui 2' was the first film where I was her voice and now 'Saaho'. I hope that the magic of 'Aashiqui 2' is recreated and the film also does amazingly well.

You have also sung the Telugu version of 'Enni Soni'. How difficult is it to sing in a language you do not understand?
It was a challenge but people have positively accepted me. It is my first Telugu song. Whenever I sing in a different language, I make sure I have a language expert sitting there with me to correct my diction and to understand what I am singing. Telugu is a language which you can memorize very quickly.

[…]