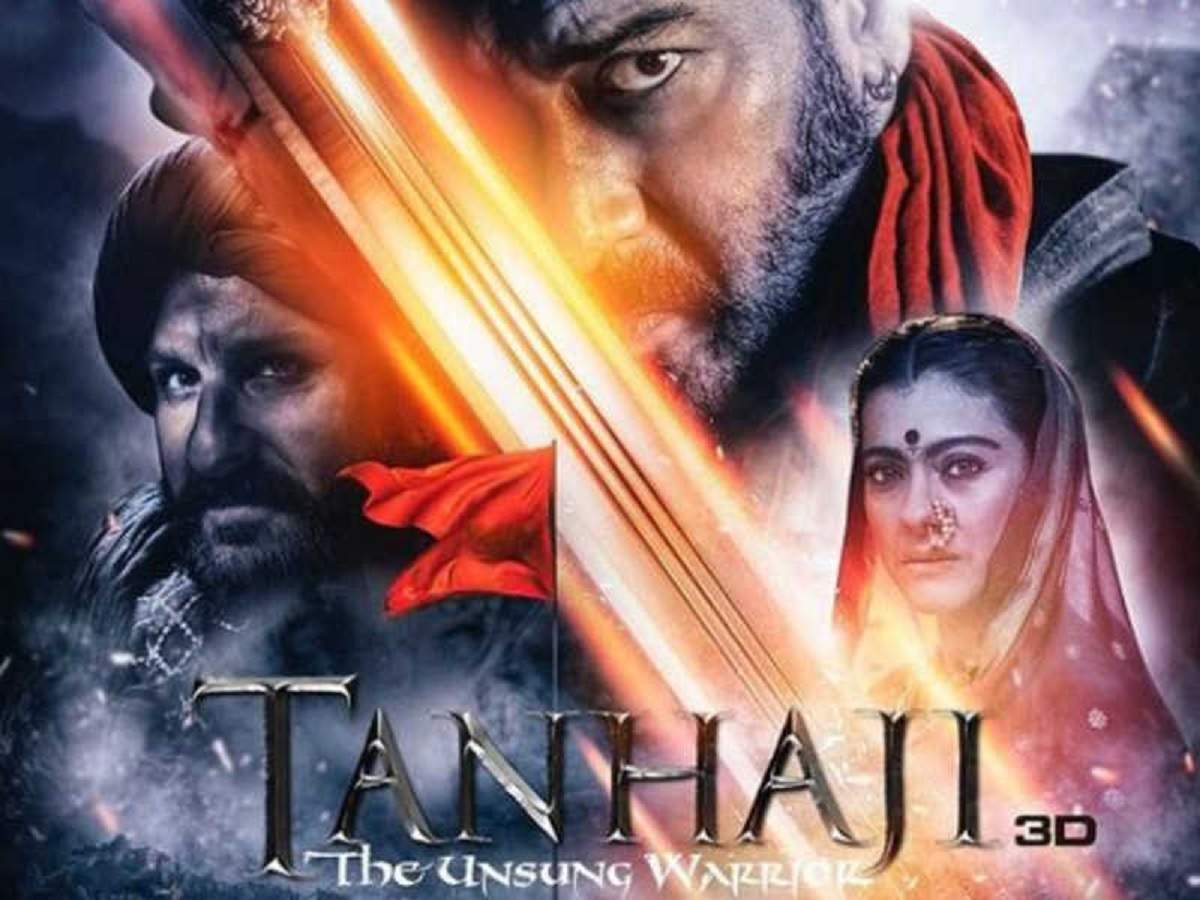 Bollywood's power couple Ajay Devgn and Kajol have come together on the silver screen once again and nailed it with their stunning performance. Their period drama 'Tanhaji: The Unsung Warrior' which is based on the life of Maratha Empire's military leader Tanaji Malusare has been on a phenomenal run in the domestic circuit as well.
Tanhaji: The Unsung Warrior Movie Review : This story of a braveheart makes for a thrilling watch
According to the latest Box Office India report, the Om Raut directorial has managed to surpass the Monday test as it has earned Rs 13.50 crore, taking its total to a stupendous figure of Rs 73.25 crore in just four days. The film which opened at Rs 14.50 crore saw a remarkable rise in its collection and managed to rake in a total of Rs 59.75 crore from its first weekend itself.
'Tanhaji: The Unsung Warrior' has managed to excel at the box office despite facing tough competition from Meghna Gulzar's 'Chhapaak' which stars Deepika Padukone in the main lead. The film has managed to do well in almost all regions and is expected to grow as per the same report.
Meanwhile, the government of UP recently took to social media to share the news that 'Tanhaji: The Unsung Warrior' has been made tax free in Uttar Pradesh. Responding to the news, Ajay too took to Twitter to express his gratitude to CM Yogi Adityanath and even urged him to watch the film. He wrote, "Thank you Shri Yogi Adityanathji for making #TanhajiTheUnsungWarrior Tax-Free in Uttar Pradesh. I would also be delighted Sir if you watched our film ?@myogiadityanath #TanhajiUnitesIndia"
Thank you Shri Yogi Adityanathji for making #TanhajiTheUnsungWarrior Tax-Free in Uttar Pradesh. I would also be del… https://t.co/asJmDujp4c

— Ajay Devgn (@ajaydevgn) 1578979179000
The period drama also stars Saif Ali Khan as the main antagonist and the audience have been all praise for him as well. Meanwhile, the report further states that the first week business of the film is pretty much sure to cross the Rs 100 crore mark and could even be above 105 crore but a lot depends on how the film fares in the coming days.
Bollywood's power couple Ajay Devgn and Kajol have come together on the silver screen once again and nailed it with their stunning performance. Their period drama 'Tanhaji: The Unsung Warrior' which is based on the life of Maratha Empire's military leader Tanaji Malusare has been on a phenomenal run in the domestic circuit as well.

Tanhaji: The Unsung Warrior Movie Review : This story of a braveheart makes for a thrilling watch

According to the latest Box Office India report, the Om Raut directorial has managed to surpass the Monday test as it has earned Rs 13.50 crore, taking its total to a stupendous figure of Rs 73.25 crore in just four days. The film which opened at Rs 14.50 crore saw a remarkable rise in its collection and managed to rake in a total of Rs 59.75 crore from its first weekend itself.

'Tanhaji: The Unsung Warrior' has managed to excel at the box office despite facing tough competition from Meghna Gulzar's 'Chhapaak' which stars Deepika Padukone in the main lead. The film has managed to do well in almost all regions and is expected to grow as per the same report.

Meanwhile, the government of UP recently took to social media to share the news that 'Tanhaji: The Unsung Warrior' has been made tax free in Uttar Pradesh. Responding to the news, Ajay too took to Twitter to express his gratitude to CM Yogi Adityanath and even urged him to watch the film. He wrote, "Thank you Shri Yogi Adityanathji for making #TanhajiTheUnsungWarrior Tax-Free in Uttar Pradesh. I would also be delighted Sir if you watched our film ?@myogiadityanath #TanhajiUnitesIndia"

The period drama also stars Saif Ali Khan as the main antagonist and the audience have been all praise for him as well. Meanwhile, the report further states that the first week business of the film is pretty much sure to cross the Rs 100 crore mark and could even be above 105 crore but a lot depends on how the film fares in the coming days.

Thank you Shri Yogi Adityanathji for making #TanhajiTheUnsungWarrior Tax-Free in Uttar Pradesh. I would also be del… https://t.co/asJmDujp4c […]