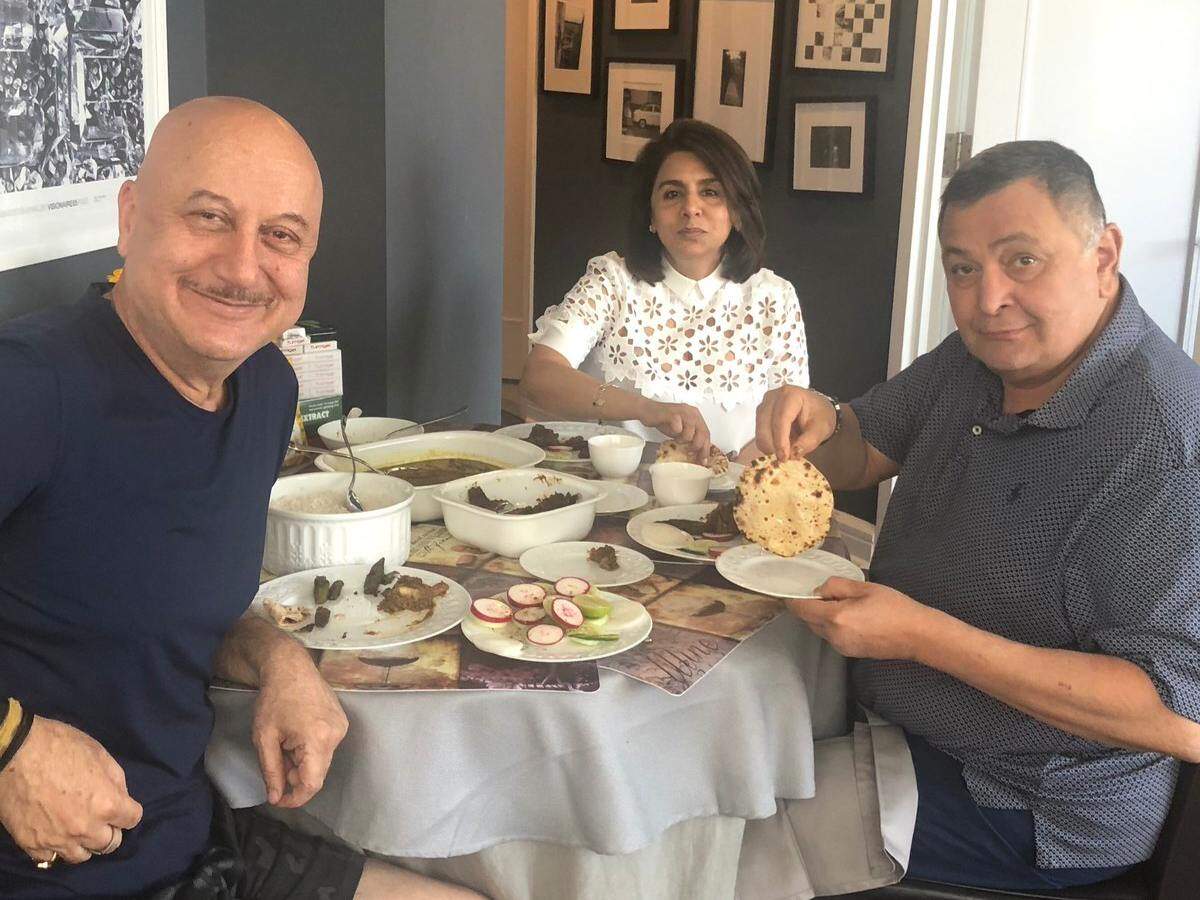 Rishi Kapoor has been far away from home for quite a long time now. The actor was diagnosed with cancer last year and is currently undergoing treatment for it in New York. All fit and fine now, the seasoned actor is all set to return back to the country soon and he recently also revealed that he can't wait for more to face the camera again.
Since the news of his cancer spread, Bollywood celebs have been visiting him in New York. Recently, seasoned actor Anupam Kher also visited his colleague and friend, with whom he has worked in several films together. Both the actors also took to their social media handles to express their happiness after seeing each other.
Now, Rishi with his wife Neetu Kapoor recently had lunch with Anupam Kher at the latter's apartment in New York. Being far away from home for long, it must be obvious that the actor has been missing the taste of homely food. But Anupam Kher treated his guests with the correct Aate Ka Phulkas and Rishi Kapoor couldn't be more happier.
Sharing a picture from their lunch, Rishi captioned, "At Anupam Kher's apartment for lunch. Had the correct "aate(flour) ka phulka( Indian bread) after a while. Great food made by his man Friday Daddu"
At Anupam Kher's apartment for lunch. Had the correct "aate(flour) ka phulka( Indian bread) after a while. Great fo… https://t.co/Wlm1wlKxac

— Rishi Kapoor (@chintskap) 1563737786000
Anupam Kher also took to his social media handles to share pictures with his guests. The actor wrote, "Guess who came for lunch? I was delighted to have @neetu54 #RishiKapoor along with Santosh at my house for lunch. As Neetu ji rightfully commented that we never thought we will meet like this at my place in NY. But then don't I always say #KuchBhiHoSaktaHai. Dattu was over the moon to specially cook for them."
Rishi Kapoor has been in New York for 9 months and is undergoing treatment for cancer. The actor is expected to be back soon.
Rishi Kapoor has been far away from home for quite a long time now. The actor was diagnosed with cancer last year and is currently undergoing treatment for it in New York. All fit and fine now, the seasoned actor is all set to return back to the country soon and he recently also revealed that he can't wait for more to face the camera again.

Since the news of his cancer spread, Bollywood celebs have been visiting him in New York. Recently, seasoned actor Anupam Kher also visited his colleague and friend, with whom he has worked in several films together. Both the actors also took to their social media handles to express their happiness after seeing each other.

Now, Rishi with his wife Neetu Kapoor recently had lunch with Anupam Kher at the latter's apartment in New York. Being far away from home for long, it must be obvious that the actor has been missing the taste of homely food. But Anupam Kher treated his guests with the correct Aate Ka Phulkas and Rishi Kapoor couldn't be more happier.

Sharing a picture from their lunch, Rishi captioned, "At Anupam Kher's apartment for lunch. Had the correct "aate(flour) ka phulka( Indian bread) after a while. Great food made by his man Friday Daddu"

Anupam Kher also took to his social media handles to share pictures with his guests. The actor wrote, "Guess who came for lunch? I was delighted to have @neetu54 #RishiKapoor along with Santosh at my house for lunch. As Neetu ji rightfully commented that we never thought we will meet like this at my place in NY. But then don't I always say #KuchBhiHoSaktaHai. Dattu was over the moon to specially cook for them."

Rishi Kapoor has been in New York for 9 months and is undergoing treatment for cancer. The actor is expected to be back soon.

At Anupam Kher's apartment for lunch. Had the correct "aate(flour) ka phulka( Indian bread) after a while. Great fo… https://t.co/Wlm1wlKxac […]