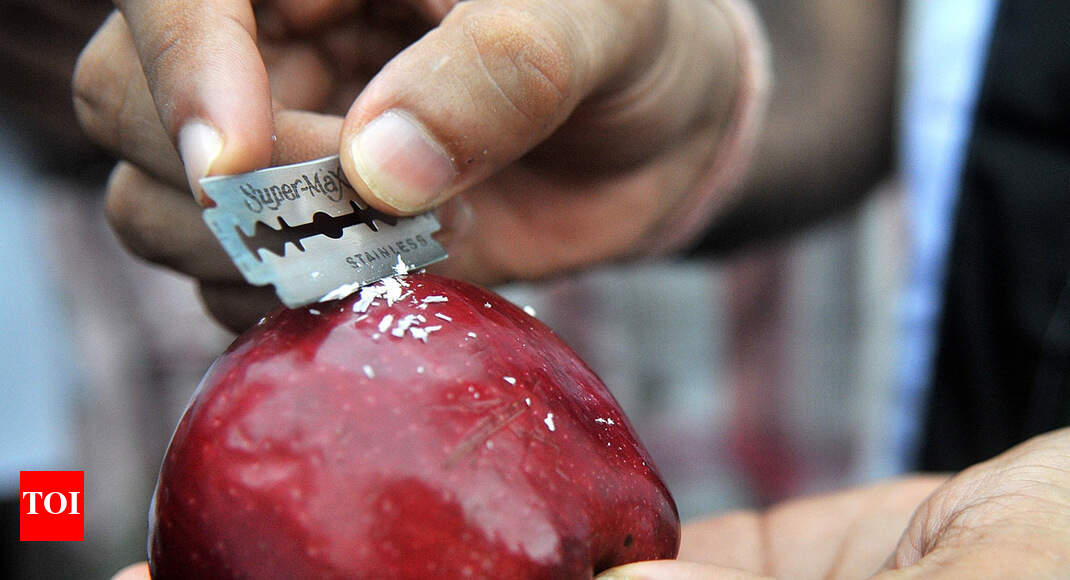 While health junkies prescribe planning your diet carefully, so that food works like medicine to heal your body, you are also assailed by messages on social media showing how our food is 'poisoned' with chemicals. And, if you thought the 'an apple a day' phrase offered sane advice, there are videos showing how the apple we get from shops are much less attractive, once the layer of wax is scrapped off the skin.
So, do apples and other fruits need a wax coating? We tried to find out if fruit dealers will admit to the presence of wax and if so, why it is used. Dr Geetha Lekshmi, assistant professor of post-harvest technology at the College of Agriculture, Vellayani, in Thiruvananthapuram, says that some fruits and vegetables have a natural waxy coating. "After the harvest, fruits will rot fast and not have a shelf life because of pathogen attack. So, an edible wax coating, which is FSSAI approved, is added to increase its shelf life. If stringent quality control is imposed on the type of wax used, there is no reason to be alarmed when you see your apple or other fruits with a waxy coating," she says.
Melvin Baby, a purchase manager with one of the biggest fruit suppliers in Kochi, says it is international regulation that fruits, such as apples and oranges, and even some vegetables such as potatoes and garlic are wax coated.
"When oranges are loaded, it will have the larvae of the Mediterranean fruit fly, for example. So, they must be washed before they are loaded. Large amounts of fruits are brush-washed mechanically, which causes them to lose their natural wax and so, they get coated with wax," he says, dispelling fears that paraffin wax is used as it is more expensive than edible wax.
The technology was first used in the US nearly 25 years ago, when orange orchards were destroyed by the attack of Egyptian fruit fly. "Because of this, you cannot even carry fruits in your baggage when you fly there. One of the other reasons fruits were waxed were because of concerns about them being used as bio-weapons with the presence of anthrax. Research has been conducted into this for the past two decades and wax prevents the loss of water in apples and oranges. New types of edible wax are constantly being developed," he says.
But even though the wax is edible, it is advisable to wash your fruits properly before eating them, Melvin says. Even though the fruits may not be directly touched from the time of loading, the transit time from Houston to Kochi is two months and dust gathers on the fruit by then. He says that you are unlikely to see the wax scrapped off as you see on social media videos. "The wax that is used comes from the waste from the honey industry in Taiwan and from the vegetable oil companies," he says.
The difference between Indian and US apples is the strict quality control; the former does not have grading and are not washed or sorted, while the latter are sorted accurately according to weight and quality. Apart from the US, apples to the State come from Italy, Belgium, New Zealand, Australia and Iran. Imported kiwis, grapes and strawberries also have a wax coating.
So, waxed apples are safe to eat, despite what social media says? Yes, say food safety officers and doctors. Dr Cyriac Philips, a leading city hepatologist, says that in his discussions with nutritionists, he has found that waxed fruits do not have a negative impact on health. "The only problem is probably that the taste decreases a bit, but it doesn't cause disease. Wash fruits in lemon and vinegar to stay on the safe side," he says.
While health junkies prescribe planning your diet carefully, so that food works like medicine to heal your body, you are also assailed by messages on social media showing how our food is 'poisoned' with chemicals. And, if you thought the 'an apple a day' phrase offered sane advice, there are videos showing how the apple we get from shops are much less attractive, once the layer of wax is scrapped off the skin.
So, do apples and other fruits need a wax coating? We tried to find out if fruit dealers will admit to the presence of wax and if so, why it is used. Dr Geetha Lekshmi, assistant professor of post-harvest technology at the College of Agriculture, Vellayani, in Thiruvananthapuram, says that some fruits and vegetables have a natural waxy coating. "After the harvest, fruits will rot fast and not have a shelf life because of pathogen attack. So, an edible wax coating, which is FSSAI approved, is added to increase its shelf life. If stringent quality control is imposed on the type of wax used, there is no reason to be alarmed when you see your apple or other fruits with a waxy coating," she says.
Melvin Baby, a purchase manager with one of the biggest fruit suppliers in Kochi, says it is international regulation that fruits, such as apples and oranges, and even some vegetables such as potatoes and garlic are wax coated.
"When oranges are loaded, it will have the larvae of the Mediterranean fruit fly, for example. So, they must be washed before they are loaded. Large amounts of fruits are brush-washed mechanically, which causes them to lose their natural wax and so, they get coated with wax," he says, dispelling fears that paraffin wax is used as it is more expensive than edible wax.
The technology was first used in the US nearly 25 years ago, when orange orchards were destroyed by the attack of Egyptian fruit fly. "Because of this, you cannot even carry fruits in your baggage when you fly there. One of the other reasons fruits were waxed were because of concerns about them being used as bio-weapons with the presence of anthrax. Research has been conducted into this for the past two decades and wax prevents the loss of water in apples and oranges. New types of edible wax are constantly being developed," he says.
But even though the wax is edible, it is advisable to wash your fruits properly before eating them, Melvin says. Even though the fruits may not be directly touched from the time of loading, the transit time from Houston to Kochi is two months and dust gathers on the fruit by then. He says that you are unlikely to see the wax scrapped off as you see on social media videos. "The wax that is used comes from the waste from the honey industry in Taiwan and from the vegetable oil companies," he says.
The difference between Indian and US apples is the strict quality control; the former does not have grading and are not washed or sorted, while the latter are sorted accurately according to weight and quality. Apart from the US, apples to the State come from Italy, Belgium, New Zealand, Australia and Iran. Imported kiwis, grapes and strawberries also have a wax coating.
So, waxed apples are safe to eat, despite what social media says? Yes, say food safety officers and doctors. Dr Cyriac Philips, a leading city hepatologist, says that in his discussions with nutritionists, he has found that waxed fruits do not have a negative impact on health. "The only problem is probably that the taste decreases a bit, but it doesn't cause disease. Wash fruits in lemon and vinegar to stay on the safe side," he says.
[…]