MUMBAI: Bombay high court on Monday confirmed conviction of Arun Gawli under the dreaded MCOCA and upheld his life sentence for murdering Shiv Sena corporator Kamlakar Jamsandikar. A special trial court had convicted him for the murder in 2012. He has been in jail since his arrest in 2008. A bench of Justices BP Dharmadhikari and Swapna Joahi pronounces the verdict on Monday morning in his appeal. The conviction and sentence was confirmed for his other co accused too in the case. The HC while upholding the conviction for murder and sentence of four other co-accused acquitted them under MCOCA. In august 2012, a special MCOCA court in Mumbai had sentenced Gawli to life imprisonment for murder of Shiv Sena corporator Jamsandekar in March 2007. Jamsandekar, was shot dead in March 2007 near his Asalpha residence in suburban Ghatkopar in Mumbai by members of Gawli's gang, the court held The prosecution's case and the chargesheet contended that Gawli was paid Rs 30 lakh by Jamsandekar's business and political rivals, Sahebrao Bhintade and Bala Surve. Gawli, who has been in police custody since May 2008. Special public prosecutor A M Chimalker has argued that the conviction be upheld since the case was proved beyond reasonable doubt. Gawli's lawyer Sudat Patil later said he would be appealing the HC ruling. Gawli, 66, had in 2015 taken leave of parole to attend his son's wedding which took place that May at his home in Dagdi chawl. He was lodged in the Nagpur prison following his 2012 conviction in the murder case. Maharashtra Control of Organsed Crime Act is a law meant to curb organised crime. Let's block ads! (Why?) […]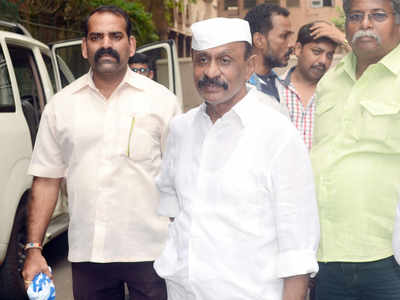 Arun Gawli
MUMBAI: Bombay high court on Monday confirmed conviction of Arun Gawli under the dreaded MCOCA and upheld his life sentence for murdering Shiv Sena corporator Kamlakar Jamsandikar.
A special trial court had convicted him for the murder in 2012. He has been in jail since his arrest in 2008.
A bench of Justices BP Dharmadhikari and Swapna Joahi pronounces the verdict on Monday morning in his appeal. The conviction and sentence was confirmed for his other co accused too in the case.
The HC while upholding the conviction for murder and sentence of four other co-accused acquitted them under MCOCA.
In august 2012, a special MCOCA court in Mumbai had sentenced Gawli to life imprisonment for murder of Shiv Sena corporator Jamsandekar in March 2007.
Jamsandekar, was shot dead in March 2007 near his Asalpha residence in suburban Ghatkopar in Mumbai by members of Gawli's gang, the court held The prosecution's case and the chargesheet contended that Gawli was paid Rs 30 lakh by Jamsandekar's business and political rivals, Sahebrao Bhintade and Bala Surve. Gawli, who has been in police custody since May 2008.
Special public prosecutor A M Chimalker has argued that the conviction be upheld since the case was proved beyond reasonable doubt. Gawli's lawyer Sudat Patil later said he would be appealing the HC ruling.
Gawli, 66, had in 2015 taken leave of parole to attend his son's wedding which took place that May at his home in Dagdi chawl.
He was lodged in the Nagpur prison following his 2012 conviction in the murder case.
Maharashtra Control of Organsed Crime Act is a law meant to curb organised crime.
MUMBAI: Bombay high court on Monday confirmed conviction of Arun Gawli under the dreaded MCOCA and upheld his life sentence for murdering Shiv Sena corporator Kamlakar Jamsandikar. A special trial court had convicted him for the murder in 2012. He has been in jail since his arrest in 2008. A bench of Justices BP Dharmadhikari and Swapna Joahi pronounces the verdict on Monday morning in his appeal. The conviction and sentence was confirmed for his other co accused too in the case. The HC while upholding the conviction for murder and sentence of four other co-accused acquitted them under MCOCA. In august 2012, a special MCOCA court in Mumbai had sentenced Gawli to life imprisonment for murder of Shiv Sena corporator Jamsandekar in March 2007. Jamsandekar, was shot dead in March 2007 near his Asalpha residence in suburban Ghatkopar in Mumbai by members of Gawli's gang, the court held The prosecution's case and the chargesheet contended that Gawli was paid Rs 30 lakh by Jamsandekar's business and political rivals, Sahebrao Bhintade and Bala Surve. Gawli, who has been in police custody since May 2008. Special public prosecutor A M Chimalker has argued that the conviction be upheld since the case was proved beyond reasonable doubt. Gawli's lawyer Sudat Patil later said he would be appealing the HC ruling. Gawli, 66, had in 2015 taken leave of parole to attend his son's wedding which took place that May at his home in Dagdi chawl. He was lodged in the Nagpur prison following his 2012 conviction in the murder case. Maharashtra Control of Organsed Crime Act is a law meant to curb organised crime. Let's block ads! (Why?) […]