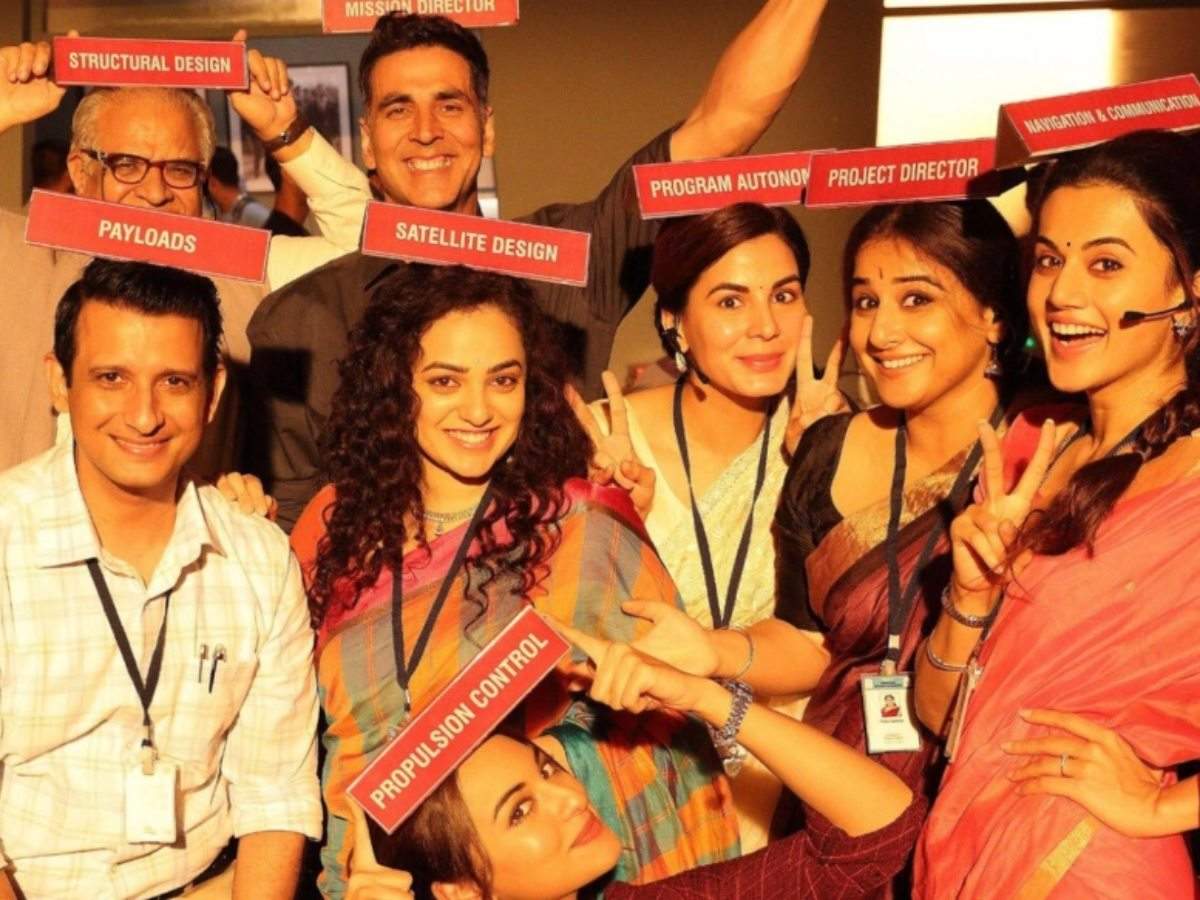 All hail the box office hero! With back-to-back successful films, Akshay Kumar maintained his winning streak at the box office with his latest Independence Day release ' Mission Mangal'. The multi-starrer film which narrates the success story of India's ambitious Mars mission has crossed the Rs 100 crore mark in five days at the box office.
Also See:Mission Mangal Movie Review
According to the latest report on the Boxofficeindia.com, on Monday, the film has raked in a total of Rs 8.50 crore on its fifth day at the box office. The drop on Monday will be about 50%, however, the film recorded a big extended weekend and massive opening. The film has managed to collect a total of Rs 105 crore in its five days at the box office.
The Jagan Shakti directorial features an ensemble star cast of Vidya Balan, Taapsee Pannu, Sonakshi Sinha, Kriti Kulhari, Nitya Menen, Sharman Joshi among others. The film is among the top three hits of the year with 'Kabir Singh' and 'Uri – The Surgical Strike'.
The film had locked horns with John Abraham's 'Batla House' which made way for one of the biggest domestic box office clashes in recent years. However, the Akshay Kumar starrer is far ahead from the John Abraham starrer which also neared the Rs 50 crore mark on Monday.
'Mission Mangal' delves into the insides of Indian Space Research Organization (ISRO) and brings in front the contribution of female scientists and the efforts they put into making India the first country to reach the Mars in its maiden attempt. Helmed by Jagan Shakti, the film hit the screens on August 15.
All hail the box office hero! With back-to-back successful films, Akshay Kumar maintained his winning streak at the box office with his latest Independence Day release '
Mission Mangal'. The multi-starrer film which narrates the success story of India's ambitious Mars mission has crossed the Rs 100 crore mark in five days at the box office.

Also See: Mission Mangal Movie Review

According to the latest report on the Boxofficeindia.com, on Monday, the film has raked in a total of Rs 8.50 crore on its fifth day at the box office. The drop on Monday will be about 50%, however, the film recorded a big extended weekend and massive opening. The film has managed to collect a total of Rs 105 crore in its five days at the box office.

The Jagan Shakti directorial features an ensemble star cast of Vidya Balan, Taapsee Pannu, Sonakshi Sinha, Kriti Kulhari, Nitya Menen, Sharman Joshi among others. The film is among the top three hits of the year with 'Kabir Singh' and 'Uri – The Surgical Strike'.

The film had locked horns with John Abraham's 'Batla House' which made way for one of the biggest domestic box office clashes in recent years. However, the Akshay Kumar starrer is far ahead from the John Abraham starrer which also neared the Rs 50 crore mark on Monday.

'Mission Mangal' delves into the insides of Indian Space Research Organization (ISRO) and brings in front the contribution of female scientists and the efforts they put into making India the first country to reach the Mars in its maiden attempt. Helmed by Jagan Shakti, the film hit the screens on August 15.

[…]