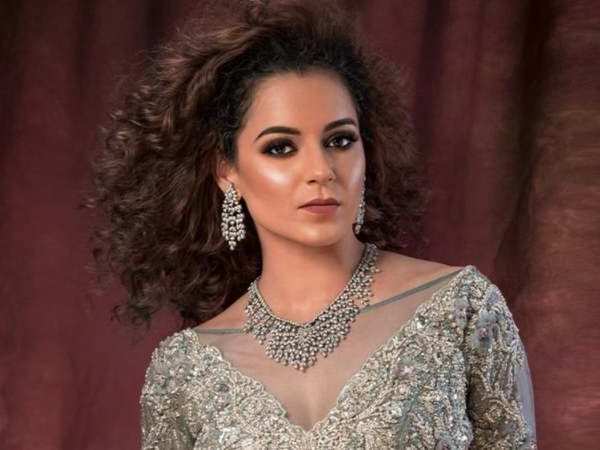 As we all know, back in 2017, Bollywood actress Kangana Ranaut talked about wanting to start her own production house someday and even went to the extent of buying a property in Pali Hill (Bandra) for her studio, which she later named as 'Manikarnika Films'. And then things were somewhat on hold before the National Award-winning actress announced that she will be officially launching her own production studio this coming January in the Khar area of Mumbai city.
Kangana recently confirmed in a statement that her office will be ready by January next year and that she and her team are readying their projects. The actress also shared that good scripts are coming her way and the filmmakers want her to feature in them. But, Kangana feels that new talents need also a platform to showcase their acting abilities and the stories she is reading shouldn't get lost in the process ad that they, too, deserve to hit the big screen.
It is not surprising that the actor, who made nepotism the buzzword in Bollywood, is working towards making the industry more inclusive. "I won't be acting in the films that I produce. There is a lot of talent around and I will hire actors who are perfect for the scripts. I will take new talent under my wing and guide them."
Then, Kangana went on to announce that she will not be acting in the films that she produces and will hire actors who are perfect for the scripts. She would also like to take new talents 'under her wing and guide them'.
She also added that she would back small-budget films first, see how that pans out and then do something on a larger scale. Kangana is also interested in the digital entertainment business, read the statement.
As we all know, back in 2017, Bollywood actress Kangana Ranaut talked about wanting to start her own production house someday and even went to the extent of buying a property in Pali Hill (Bandra) for her studio, which she later named as 'Manikarnika Films'. And then things were somewhat on hold before the National Award-winning actress announced that she will be officially launching her own production studio this coming January in the Khar area of Mumbai city.

Kangana recently confirmed in a statement that her office will be ready by January next year and that she and her team are readying their projects. The actress also shared that good scripts are coming her way and the filmmakers want her to feature in them. But, Kangana feels that new talents need also a platform to showcase their acting abilities and the stories she is reading shouldn't get lost in the process ad that they, too, deserve to hit the big screen.

It is not surprising that the actor, who made nepotism the buzzword in Bollywood, is working towards making the industry more inclusive. "I won't be acting in the films that I produce. There is a lot of talent around and I will hire actors who are perfect for the scripts. I will take new talent under my wing and guide them."

Then, Kangana went on to announce that she will not be acting in the films that she produces and will hire actors who are perfect for the scripts. She would also like to take new talents 'under her wing and guide them'.

She also added that she would back small-budget films first, see how that pans out and then do something on a larger scale. Kangana is also interested in the digital entertainment business, read the statement.

[…]