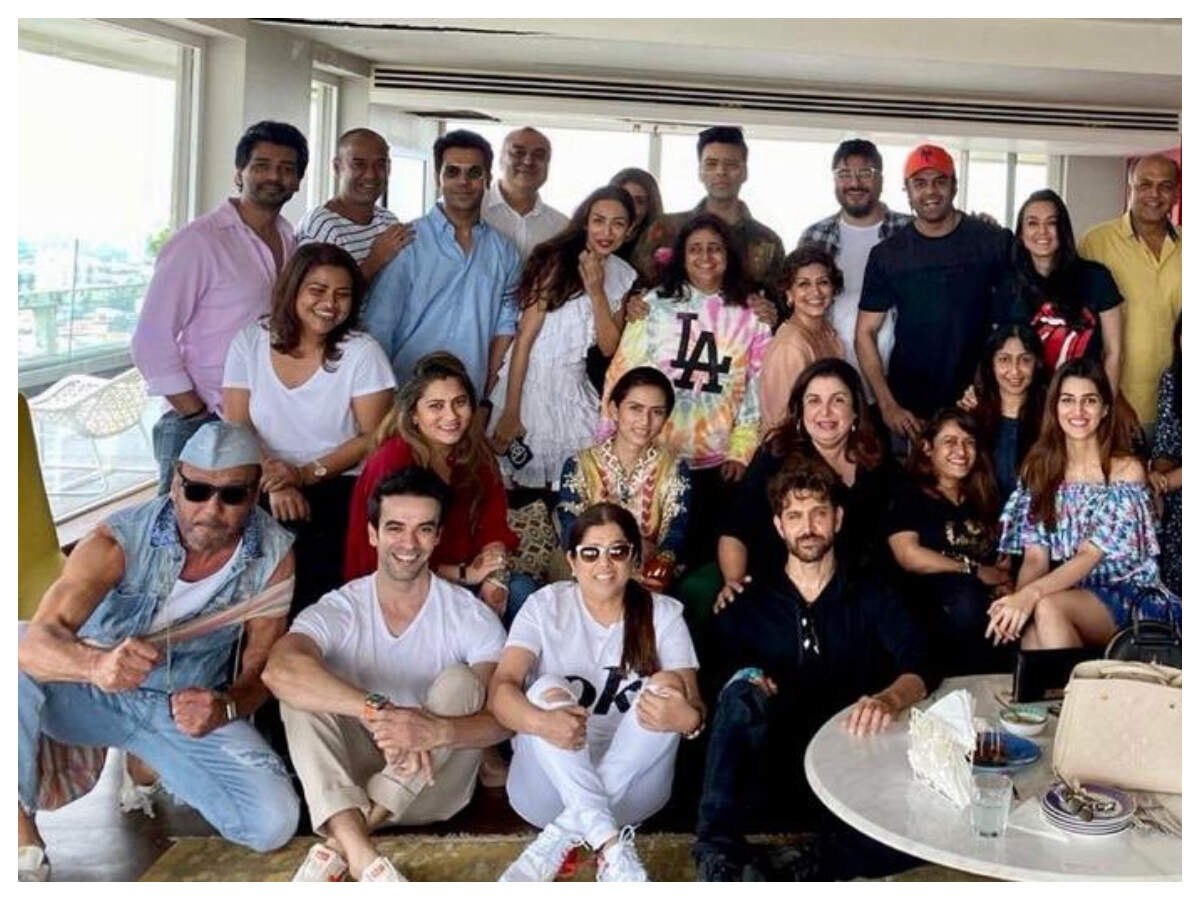 Choreographer-turned-filmmaker Farah Khan hosted a Sunday daawat at her residence on Sunday. The who's who of Bollywood made their presence felt at the do. While pictures from the get-together have been making the rounds on the internet, there is one picture that caught our attention and it is of none other than Bollywood's 'Bhidu' Jackie Shroff. Sonali Bendre took to her twitter handle to share a set of pictures from the daawat that she attended. While in one picture, Sonali is seen posing for a selfie with Farah, in another picture, all those who attended the do are seen posing for a group picture.
Amongst all, the one who caught our attention is Jackie Shroff and his quirky get-up. The actor is seen sporting an all-denim look but with a twist. However, it was his Gandhi topi that stole the thunder.
Check out the pictures here:

Thank you @TheFarahKhan for the dawat, the best food in the world!!! ? Fun Sunday ?????? #FarahKiDawat https://t.co/By1sti8vzs

— Sonali Bendre Behl (@iamsonalibendre) 1571572290000

Amongst the ones who attended Farah's daawat included, Hrithik Roshan, Pooja Hegde, Kriti Sanon, Ashutosh Gowariker, Preity Zinta, Karan Johar, Malaika Arora and others.
Meanwhile, on the work front, Farah will next be seen helming a film in collaboration with Rohit Shetty. The film is touted to be the official remake of 'Satte Pe Satta'.Choreographer-turned-filmmaker Farah Khan hosted a Sunday daawat at her residence on Sunday. The who's who of Bollywood made their presence felt at the do. While pictures from the get-together have been making the rounds on the internet, there is one picture that caught our attention and it is of none other than Bollywood's 'Bhidu' Jackie Shroff.
Sonali Bendre took to her twitter handle to share a set of pictures from the daawat that she attended. While in one picture, Sonali is seen posing for a selfie with Farah, in another picture, all those who attended the do are seen posing for a group picture.

Amongst all, the one who caught our attention is Jackie Shroff and his quirky get-up. The actor is seen sporting an all-denim look but with a twist. However, it was his Gandhi topi that stole the thunder.

Check out the pictures here:
Amongst the ones who attended Farah's daawat included, Hrithik Roshan, Pooja Hegde, Kriti Sanon, Ashutosh Gowariker, Preity Zinta, Karan Johar, Malaika Arora and others.

Meanwhile, on the work front, Farah will next be seen helming a film in collaboration with Rohit Shetty. The film is touted to be the official remake of 'Satte Pe Satta'.Thank you @TheFarahKhan for the dawat, the best food in the world!!! ? Fun Sunday ?????? #FarahKiDawat https://t.co/By1sti8vzs […]