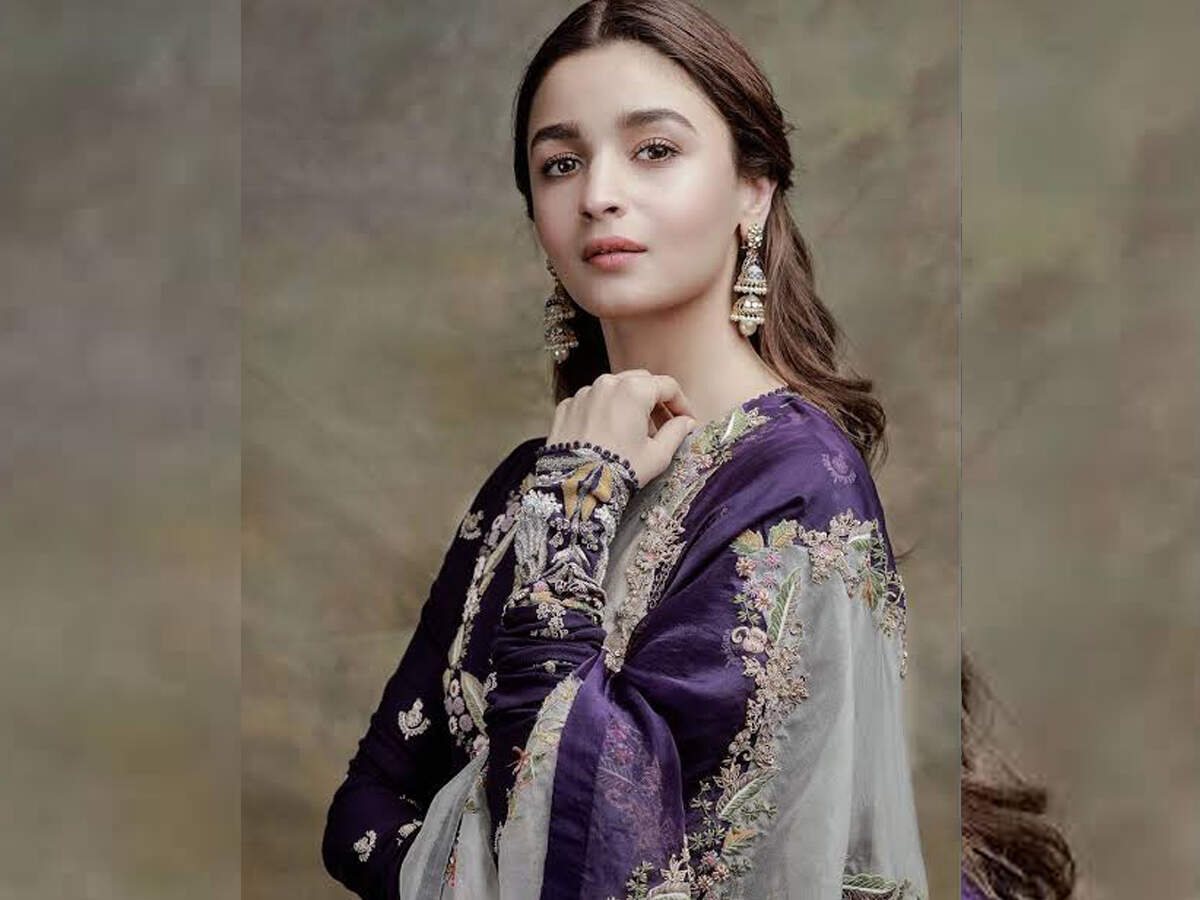 Alia Bhatt is all set to feature in Sanjay Leela Bhansali's next titled, 'Gangubai Kathiawadi' and the actress is leaving no stone unturned to get into the skin of her character in the movie. Apart from changing her body language and learning cuss words for her character, it is being touted that Alia will have no eye-catching costume, lip-syncing songs or dance in the movie. According to a report in a news portal, Alia's costumes would be limited to the kind of character she is playing and would be seen sporting minimalistic looks. The report also stated that she won't have a second chance while dubbing. Her dialogue delivery while shooting would be final.
Elaborating further, the report added that as Alia plays a gangster she won't be seen singing or dancing. Sanjay Leela Bhansali has composed some earthy folk songs for Alia. But she won't lip-sync them. The songs will be played in the background.
The actress also learnt Kathiawadi language for the movie. The filmmaker had even reached out to some of Mumbai's famous Gujarati theatre personalities for the same.
This will be the first time Alia Bhatt Bhatt will be seen collaborating with ace director Sanjay Leela Bhansali for a film. The movie also stars Ajay Devgn in a pivotal role.
Earlier, Alia Bhatt was to star opposite Salman Khan for the Sanjay Bhansali project titled, 'Inshallah'. However, due to some unrevealed differences between the actor and the director, the project got shelved. Meanwhile, on the work front, Alia has some very interesting projects up her sleeves which include, Mahesh Bhatt's 'Sadak 2' co-starring Aditya Roy Kapur, Ayan Mukerji's 'Brahmastra' co-starring Ranbir Kapoor, Karan Johar's multi-starrer 'Takht' and SS Rajamouli's 'RRR'.Alia Bhatt is all set to feature in Sanjay Leela Bhansali's next titled, 'Gangubai Kathiawadi' and the actress is leaving no stone unturned to get into the skin of her character in the movie. Apart from changing her body language and learning cuss words for her character, it is being touted that Alia will have no eye-catching costume, lip-syncing songs or dance in the movie.
According to a report in a news portal, Alia's costumes would be limited to the kind of character she is playing and would be seen sporting minimalistic looks. The report also stated that she won't have a second chance while dubbing. Her dialogue delivery while shooting would be final.

Elaborating further, the report added that as Alia plays a gangster she won't be seen singing or dancing. Sanjay Leela Bhansali has composed some earthy folk songs for Alia. But she won't lip-sync them. The songs will be played in the background.

The actress also learnt Kathiawadi language for the movie. The filmmaker had even reached out to some of Mumbai's famous Gujarati theatre personalities for the same.

This will be the first time Alia Bhatt Bhatt will be seen collaborating with ace director Sanjay Leela Bhansali for a film. The movie also stars Ajay Devgn in a pivotal role.

Earlier, Alia Bhatt was to star opposite Salman Khan for the Sanjay Bhansali project titled, 'Inshallah'. However, due to some unrevealed differences between the actor and the director, the project got shelved.
Meanwhile, on the work front, Alia has some very interesting projects up her sleeves which include, Mahesh Bhatt's 'Sadak 2' co-starring Aditya Roy Kapur, Ayan Mukerji's 'Brahmastra' co-starring Ranbir Kapoor, Karan Johar's multi-starrer 'Takht' and SS Rajamouli's 'RRR'. […]