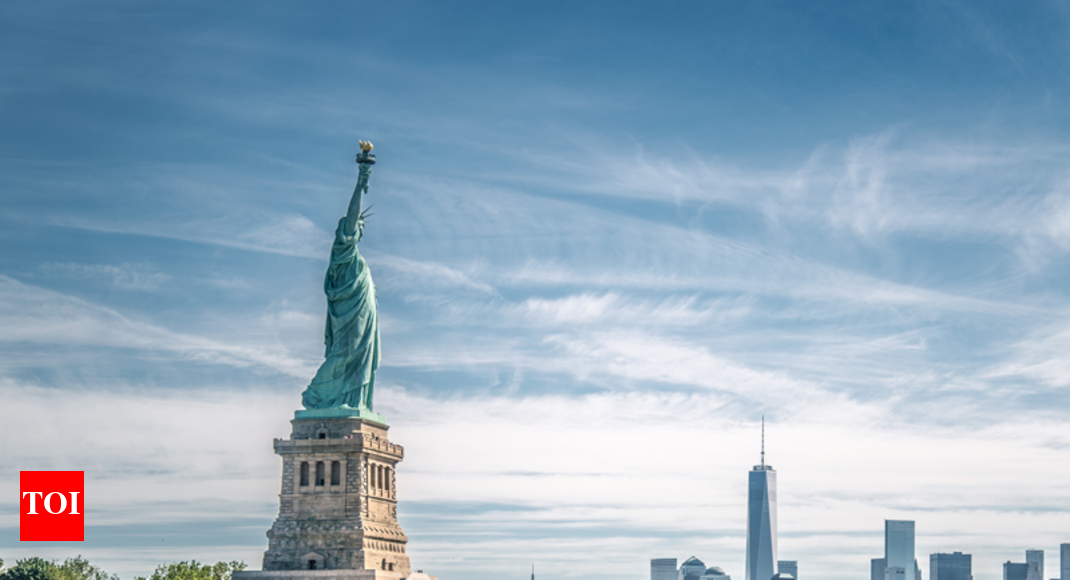 The United States continues to be a popular destination for Indian students, though fewer are flying out now because of unfriendly visa and immigration policies. Indian student population in the US went up marginally (2.9%) from 1.96 lakh in 2017-18 to 2.02 lakh in 2018-19, according to a new report. However, this figure is a cumulative number, which covers students across batches who enrolled in American universities over several preceding years.
More indicative of the latest enrolment trends are the visa numbers released by the US state department, which suggest a steep slide in the number of Indian students opting for a US education or managing to get approvals.
The number of student visas to Indians–who form a sizeable subset of total international student population–fell more than 40% from 74,831 in 2015 to 42,694 in 2018, said the US state department. Even globally, the number of student visas issued by the US decreased by close to 40% between 2015 and 2018.
In all, the US now has 24,813 Indians at the undergraduate level, 90,333 in graduate programmes, 84,630 pursuing optional practical training (OPT), and 2,238 in non-degree courses. Decrease in admissions in business management was offset by a newfound fancy for maths and statistics, which leads to jobs in data analysis and artificial intelligence.
Coursewise, Indian students pursuing maths and computer science make up the largest chunk (37%), overtaking engineering (34%) for the first time, data from Opendoors by the Institute of International Education shows. Undergraduate numbers have grown 6.3% and graduate numbers have shrunk (-5.6%), reversing a popular trend of many decades when students would seek admission for a masters in the US after graduating in engineering.
Overall, the number of in-bound international students dipped in 2018-19 by 0.9% compared with 2017-18, which recorded a much sharper fall of 6.6%. Decline in fresh enrolment of international students continued in 2019-20 at the same pace (0.9%), according to data from the 2019 Fall International Student Enrolment Snapshot Survey.The United States continues to be a popular destination for Indian students, though fewer are flying out now because of unfriendly visa and immigration policies. Indian student population in the US went up marginally (2.9%) from 1.96 lakh in 2017-18 to 2.02 lakh in 2018-19, according to a new report. However, this figure is a cumulative number, which covers students across batches who enrolled in American universities over several preceding years.

More indicative of the latest enrolment trends are the visa numbers released by the US state department, which suggest a steep slide in the number of Indian students opting for a US education or managing to get approvals.

The number of student visas to Indians–who form a sizeable subset of total international student population–fell more than 40% from 74,831 in 2015 to 42,694 in 2018, said the US state department. Even globally, the number of student visas issued by the US decreased by close to 40% between 2015 and 2018.

In all, the US now has 24,813 Indians at the undergraduate level, 90,333 in graduate programmes, 84,630 pursuing optional practical training (OPT), and 2,238 in non-degree courses. Decrease in admissions in business management was offset by a newfound fancy for maths and statistics, which leads to jobs in data analysis and artificial intelligence.

Coursewise, Indian students pursuing maths and computer science make up the largest chunk (37%), overtaking engineering (34%) for the first time, data from Opendoors by the Institute of International Education shows. Undergraduate numbers have grown 6.3% and graduate numbers have shrunk (-5.6%), reversing a popular trend of many decades when students would seek admission for a masters in the US after graduating in engineering.

Overall, the number of in-bound international students dipped in 2018-19 by 0.9% compared with 2017-18, which recorded a much sharper fall of 6.6%. Decline in fresh enrolment of international students continued in 2019-20 at the same pace (0.9%), according to data from the 2019 Fall International Student Enrolment Snapshot Survey. […]