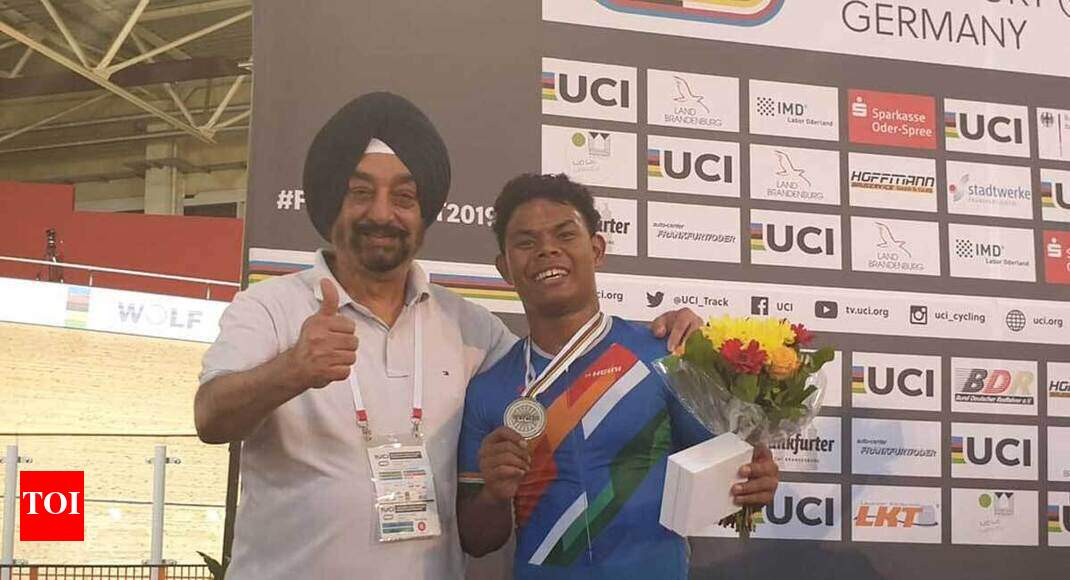 NEW DELHI: Esow Alben's medal-winning spree at the Junior Track World Cycling Championships continued on day four of the competition in Frankfurt on Saturday, when the Indian prodigy won his third medal of the week — a silver in the Men's Sprint event.
It was Esow and India's second ever junior international medal. The boy from Andaman and Nicobar islands had won a historic silver medal in the last edition of the championships as well in Aigle, Switzerland, last year.
The 18-year-old Indian finished behind gold-medal winner Konstantinos Livanos of Greece in the final. The bronze-medal race was won by Daan Kool of the Netherlands.
Earlier in the week, Esow clinched a bronze medal in Men's Keirin event as well. This was after India opened its account with a historic gold medal in Men's Team Sprint, in which the trio of Esow, Ronaldo Singh and Rojit Singh had finished on top.
Esow is currently world No. 1 junior in both men's Keirin and Sprint events. In both the categories, India tops the team rankings as well.
NEW DELHI: Esow Alben's medal-winning spree at the Junior Track World Cycling Championships continued on day four of the competition in Frankfurt on Saturday, when the Indian prodigy won his third medal of the week — a silver in the Men's Sprint event.

It was Esow and India's second ever junior international medal. The boy from Andaman and Nicobar islands had won a historic silver medal in the last edition of the championships as well in Aigle, Switzerland, last year.

The 18-year-old Indian finished behind gold-medal winner Konstantinos Livanos of Greece in the final. The bronze-medal race was won by Daan Kool of the Netherlands.

Earlier in the week, Esow clinched a bronze medal in Men's Keirin event as well. This was after India opened its account with a historic gold medal in Men's Team Sprint, in which the trio of Esow, Ronaldo Singh and Rojit Singh had finished on top.

Esow is currently world No. 1 junior in both men's Keirin and Sprint events. In both the categories, India tops the team rankings as well.

[…]