MUMBAI: The BEST on Tuesday announced that it will open parts of all its bus depots as pay-and-park lots and issued reasonable rates for two-wheelers, cars and heavy vehicles. The BEST had earlier too proposed the parking plan, but the rates were much higher then. At Tuesday's meeting, the BEST committee approved a proposal to cut the rates. Previously, for example, the rate fixed for four-wheelers to park for 12 hours was Rs 150. In the revised chart, it has been cut by more than half to Rs 70.
Moreover, the BEST had earlier said that it will only allow parking for 12 hours or on a monthly basis. Now, it is offering parking rates for three hours, six hours, 12 hours and more than 12 hours. It also has special reduced rates for monthly parking. Sources said that the BEST may also introduce a daily parking pass that will allow a motorist to park at up to three different depots across the city. List of BEST depots with capacity for parking soonA detailed list of 27 depots, along with the parking capacity in each, will be released soon, the sources added. The BEST will allow taxis, autos and private cabs to be parked on its premises. "The BMC has requested the transport undertaking to allot space in the depots for parking. Whenever the civic authorities have approached, the BEST has come forward and supported it. But it should also look at other plots, including those belonging to the state transport corporation, Mumbai port, MMRDA, etc. Several parking lots could be created on these plots," said BJP member Sunil Ganacharya. Parking at the depots will be subject to available space and without obstructing smooth functioning of the depots, said an official. "Those parking vehicles will pay the daily/monthly charges in advance as per the rates cleared by the BEST committee." Vehicles can only be parked within the "parking area" clearly marked at every depot, and there will be no access to the core area where buses are parked and maintained. "Private cars and bikes will have to follow a designated route to enter the depot," the official added. When the BEST launched its app, it will have a facility to check for availability of parking spaces at the depots. Let's block ads! (Why?) […]The BEST had earlier too proposed the parking plan, but the rates were much higher then
MUMBAI: The
BEST
on Tuesday announced that it will open parts of all its bus depots as pay-and-park lots and issued reasonable rates for two-wheelers, cars and heavy vehicles.
The BEST had earlier too proposed the parking plan, but the rates were much higher then. At Tuesday's meeting, the BEST committee approved a proposal to cut the rates. Previously, for example, the rate fixed for four-wheelers to park for 12 hours was Rs 150. In the revised chart, it has been cut by more than half to Rs 70.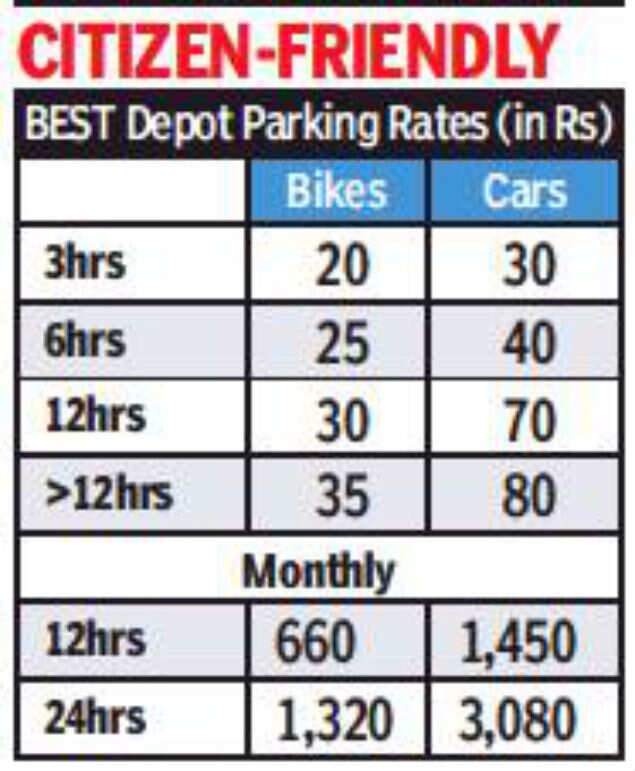 Moreover, the BEST had earlier said that it will only allow parking for 12 hours or on a monthly basis. Now, it is offering parking rates for three hours, six hours, 12 hours and more than 12 hours. It also has special reduced rates for monthly parking.
Sources said that the BEST may also introduce a daily parking pass that will allow a motorist to park at up to three different depots across the city.
List of BEST depots with capacity for parking soon
A detailed list of 27 depots, along with the parking capacity in each, will be released soon, the sources added. The BEST will allow taxis, autos and private cabs to be parked on its premises.
"The BMC has requested the transport undertaking to allot space in the depots for parking. Whenever the civic authorities have approached, the BEST has come forward and supported it. But it should also look at other plots, including those belonging to the state transport corporation, Mumbai port, MMRDA, etc. Several parking lots could be created on these plots," said BJP member Sunil Ganacharya.
Parking at the depots will be subject to available space and without obstructing smooth functioning of the depots, said an official. "Those parking vehicles will pay the daily/monthly charges in advance as per the rates cleared by the BEST committee."
Vehicles can only be parked within the "parking area" clearly marked at every depot, and there will be no access to the core area where buses are parked and maintained. "Private cars and bikes will have to follow a designated route to enter the depot," the official added. When the BEST launched its app, it will have a facility to check for availability of parking spaces at the depots.
Download The Times of India News App for Latest City .
MUMBAI: The BEST on Tuesday announced that it will open parts of all its bus depots as pay-and-park lots and issued reasonable rates for two-wheelers, cars and heavy vehicles. The BEST had earlier too proposed the parking plan, but the rates were much higher then. At Tuesday's meeting, the BEST committee approved a proposal to cut the rates. Previously, for example, the rate fixed for four-wheelers to park for 12 hours was Rs 150. In the revised chart, it has been cut by more than half to Rs 70.
Moreover, the BEST had earlier said that it will only allow parking for 12 hours or on a monthly basis. Now, it is offering parking rates for three hours, six hours, 12 hours and more than 12 hours. It also has special reduced rates for monthly parking. Sources said that the BEST may also introduce a daily parking pass that will allow a motorist to park at up to three different depots across the city. List of BEST depots with capacity for parking soonA detailed list of 27 depots, along with the parking capacity in each, will be released soon, the sources added. The BEST will allow taxis, autos and private cabs to be parked on its premises. "The BMC has requested the transport undertaking to allot space in the depots for parking. Whenever the civic authorities have approached, the BEST has come forward and supported it. But it should also look at other plots, including those belonging to the state transport corporation, Mumbai port, MMRDA, etc. Several parking lots could be created on these plots," said BJP member Sunil Ganacharya. Parking at the depots will be subject to available space and without obstructing smooth functioning of the depots, said an official. "Those parking vehicles will pay the daily/monthly charges in advance as per the rates cleared by the BEST committee." Vehicles can only be parked within the "parking area" clearly marked at every depot, and there will be no access to the core area where buses are parked and maintained. "Private cars and bikes will have to follow a designated route to enter the depot," the official added. When the BEST launched its app, it will have a facility to check for availability of parking spaces at the depots. Let's block ads! (Why?) […]