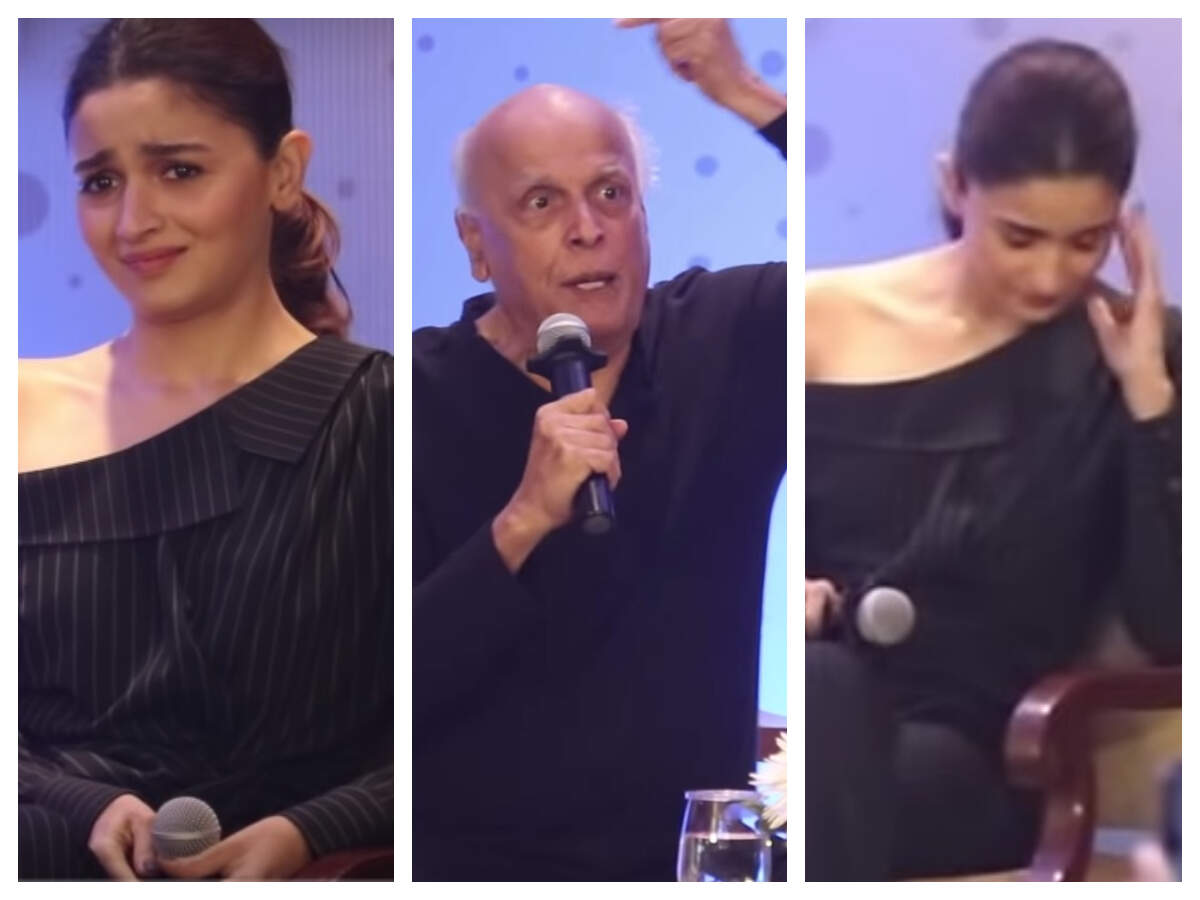 Mahesh Bhatt's daughter Shaheen Bhatt recently penned a book her memoir 'I've Never been (Un)Happier' and her entire family came out to support her during the launch of the book in Mumbai. Mahesh Bhatt, Soni Razdan, Pooja and Alia Bhatt were seen at the do answering questions from the media and people at the launch. While answering one of the questions, Mahesh Bhatt got carried away and started ranting at the top of his voice.
Alia Bhatt, who was quite expecting this to happen at some point in time, tried her best to interrupt in between and stop him from getting hyper but in vain. An upset Alia was seen quite irritated and uncomfortable in front of the people.
The book is said to have Shaheen's psychological battles that she has faced over time, including battling depression and anxiety. Shaheen chose a blue blazer and trousers with shimmer, while Pooja Bhatt chose a top and denims. Alia, on the other hand, looked like a boss lady in her pinstripe co-ord with boot-cut trousers that had a slit in the front.
At the launch, Pooja opened up about the main reason behind Alia's success. According to her, she had not inherited a major genetic flaw from their father, which, has been passed down to the rest of the family, which was of being blunt and honest. She also added that the truth did not go down well in Bollywood and that people are living in a fake world, which is full of appearances.
Meanwhile, on the work front, Alia has some interesting projects in her kitty. She is currently shooting for Ayan Mukerji's 'Brhamastra'. Alia Bhatt will be seen sharing screen space with beau Ranbir Kapoor in the film for the first time. The movie also features Amitabh Bachchan, Dimple Kapadia, Nagarjuna Akkineni and Mouni Roy in pivotal roles. Apart from that, Alia will also be seen in Sanjay Leela Bhansali's 'Gangubai Kathiawadi', Mahesh Bhatt's 'Sadak 2' and SS Rajamouli's 'RRR' along with Ajay Devgn.Mahesh Bhatt's daughter Shaheen Bhatt recently penned a book her memoir 'I've Never been (Un)Happier' and her entire family came out to support her during the launch of the book in Mumbai.
Mahesh Bhatt, Soni Razdan, Pooja and Alia Bhatt were seen at the do answering questions from the media and people at the launch. While answering one of the questions, Mahesh Bhatt got carried away and started ranting at the top of his voice.

Alia Bhatt, who was quite expecting this to happen at some point in time, tried her best to interrupt in between and stop him from getting hyper but in vain. An upset Alia was seen quite irritated and uncomfortable in front of the people.

The book is said to have Shaheen's psychological battles that she has faced over time, including battling depression and anxiety. Shaheen chose a blue blazer and trousers with shimmer, while Pooja Bhatt chose a top and denims. Alia, on the other hand, looked like a boss lady in her pinstripe co-ord with boot-cut trousers that had a slit in the front.

At the launch, Pooja opened up about the main reason behind Alia's success. According to her, she had not inherited a major genetic flaw from their father, which, has been passed down to the rest of the family, which was of being blunt and honest. She also added that the truth did not go down well in Bollywood and that people are living in a fake world, which is full of appearances.

Meanwhile, on the work front, Alia has some interesting projects in her kitty. She is currently shooting for Ayan Mukerji's 'Brhamastra'. Alia Bhatt will be seen sharing screen space with beau Ranbir Kapoor in the film for the first time. The movie also features Amitabh Bachchan, Dimple Kapadia, Nagarjuna Akkineni and Mouni Roy in pivotal roles.
Apart from that, Alia will also be seen in Sanjay Leela Bhansali's 'Gangubai Kathiawadi', Mahesh Bhatt's 'Sadak 2' and SS Rajamouli's 'RRR' along with Ajay Devgn. […]