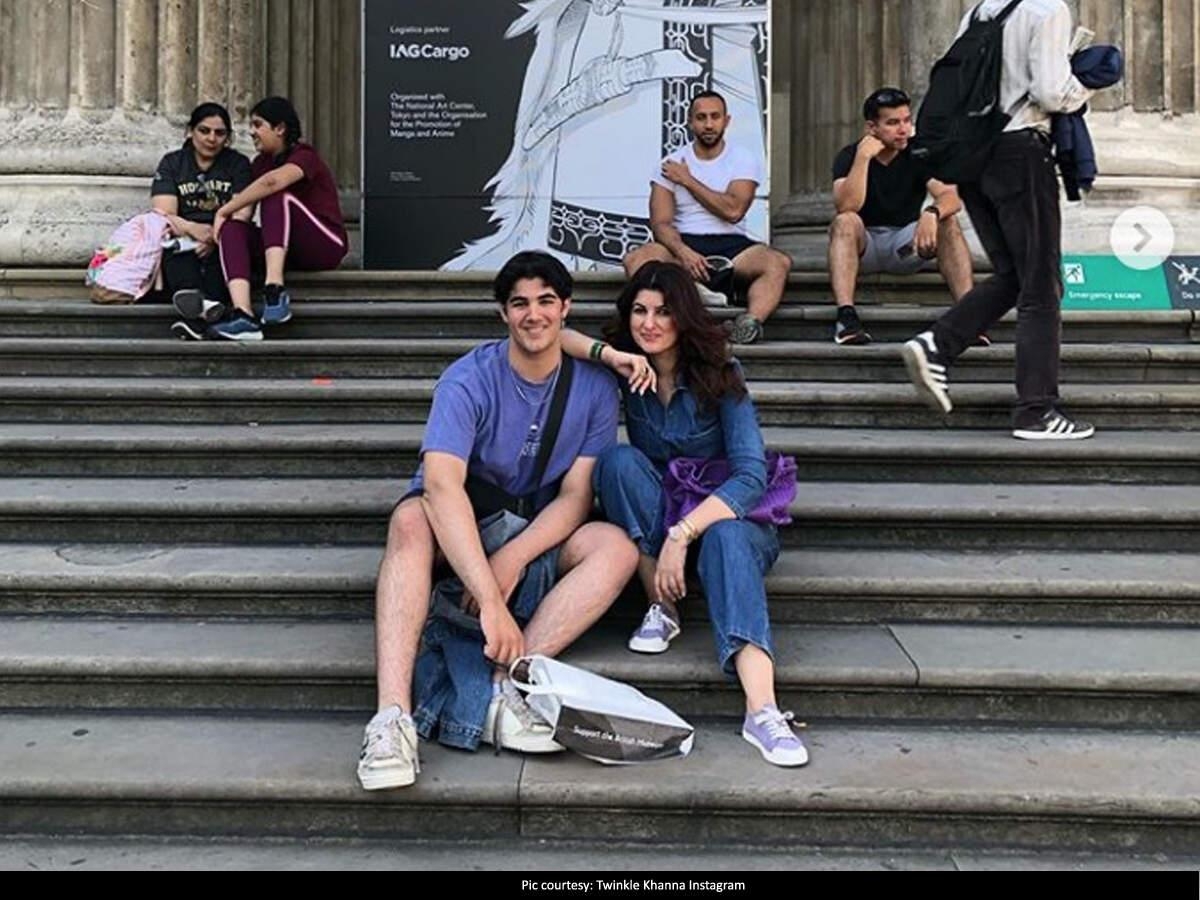 Akshay Kumar fans are eagerly waiting for his handsome son Aarav to make his big Bollywood debut. However, it looks like Aarav has some other plans for himself. Akshay, who had earlier in his career worked as a chef in Bangkok, seems to have inspired his son and we have proof! Twinkle Khanna is often seen sharing pictures of her kids and husband on her social media handles with her fans. In one such instance yesterday, the actress shared a few pictures of some mouth-watering dishes. In her caption, she revealed that her son Aarav had made dinner and dessert for them last night. And if the pictures of the dishes he made is anything to go by then he is already nailing the cooking game.
Check out the post here:

She captioned it as, 'My teenager makes us dinner and dessert all by himself 🙂 On the menu- mushroom risotto, miso avocado salad, chicken skewers and chocolate souffle #proudmama'
Aarav is currently studying in London and is yet to make his career choice. Speaking about what his son wants to pursue, Akshay had reportedly said that he is too young and currently, he is interested only in his studies. He confessed that even he does not know if Aarav wants to get into the industry and he is certainly not pushing him.
Meanwhile, on the work front, Akshay is currently one of the busiest actors in Bollywood with some very interesting projects under his belt. His upcoming films include, 'Sooryavanshi', 'Good News', 'Housefull 4', 'Bachchan Panday' and 'Laxmmi Bomb'.Akshay Kumar fans are eagerly waiting for his handsome son Aarav to make his big Bollywood debut. However, it looks like Aarav has some other plans for himself. Akshay, who had earlier in his career worked as a chef in Bangkok, seems to have inspired his son and we have proof!
Twinkle Khanna is often seen sharing pictures of her kids and husband on her social media handles with her fans. In one such instance yesterday, the actress shared a few pictures of some mouth-watering dishes. In her caption, she revealed that her son Aarav had made dinner and dessert for them last night. And if the pictures of the dishes he made is anything to go by then he is already nailing the cooking game.

Check out the post here:

View this post on Instagram
My teenager makes us dinner and dessert all by himself 🙂 On the menu- mushroom risotto, miso avocado salad, chicken skewers and chocolate souffle #proudmama

She captioned it as, 'My teenager makes us dinner and dessert all by himself 🙂 On the menu- mushroom risotto, miso avocado salad, chicken skewers and chocolate souffle #proudmama'

Aarav is currently studying in London and is yet to make his career choice. Speaking about what his son wants to pursue, Akshay had reportedly said that he is too young and currently, he is interested only in his studies. He confessed that even he does not know if Aarav wants to get into the industry and he is certainly not pushing him.

Meanwhile, on the work front, Akshay is currently one of the busiest actors in Bollywood with some very interesting projects under his belt. His upcoming films include, 'Sooryavanshi', 'Good News', 'Housefull 4', 'Bachchan Panday' and 'Laxmmi Bomb'. […]