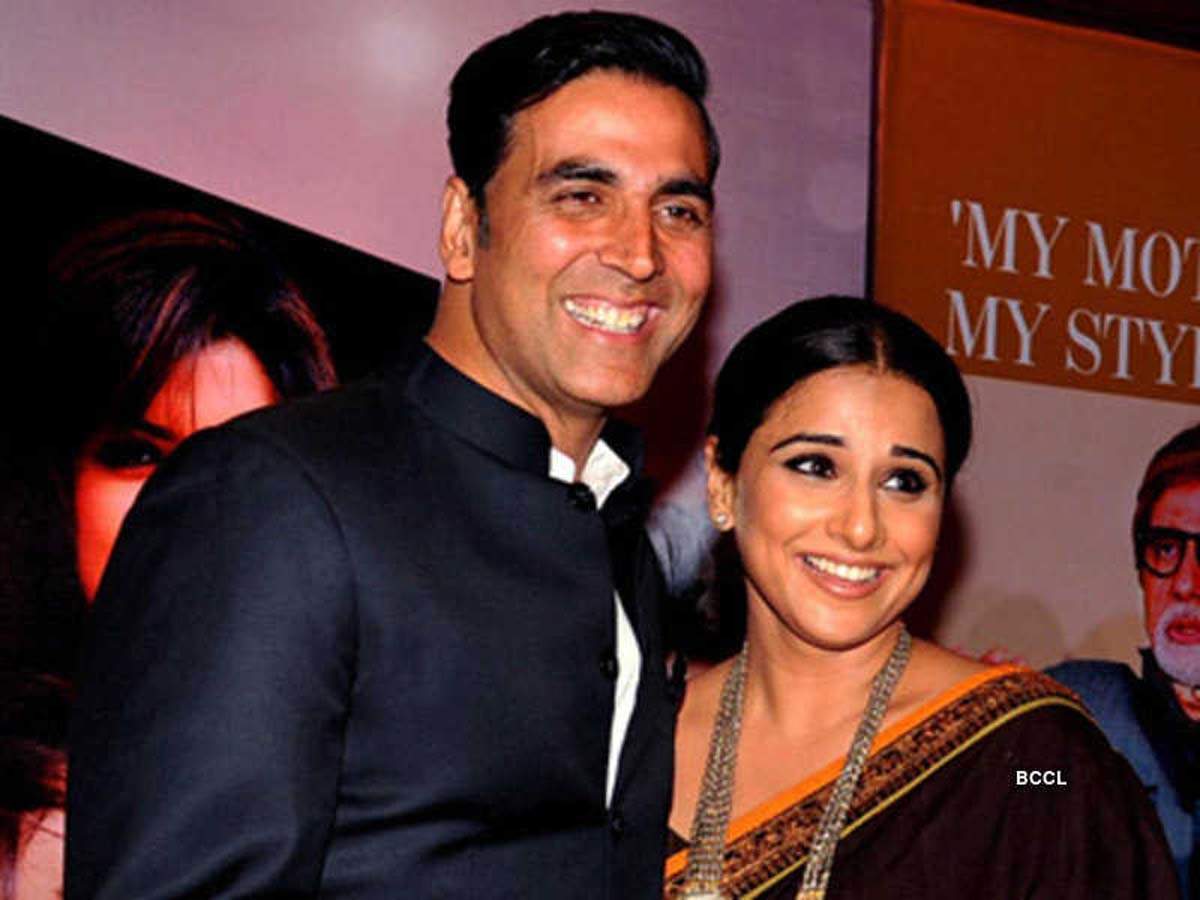 Akshay Kumar and Vidya Balan are currently basking in the glory of their recently released film 'Mission Mangal'. With the film receiving appreciations from all over the country, the elated actors in an exclusive interview expressed their happiness and much more about the film.
Akshay Kumar was asked on doing films on social issues and whether he fears of getting typecast for doing such films. Vidya interrupted in between and answered the question on Akshay's behalf. "I think Akshay's next film will typecast him, which is 'Housefull 4'. I think the film has the biggest social message," Vidya said jovially.
"Jitni Izzat Kamaayi hai… woh sab nikal jaayegi 'Housefull 4' mein," added Akki.
Coming back to 'Mission Mangal' and films Akshay and Vidya did together. The actors are happy to work together and actually share a great rapport off-screen. Vidya said, "I enjoy working with him. We have worked together after a gap of 12 years. Both our careers have gone in different directions so I thought I don't know how it'll be working together now. But the madness was intact and I love that. I love that he's constantly doing something or the other in between takes. I get inspired and I also try to play pranks on people. I succeed with everyone else but him."
Meanwhile, 'Mission Mangal' is doing wonders at the box office with minting impressive collections at the ticket window. In fact, 'Mission Mangal' has been the highest opener of Akshay Kumar's career and an elated actor feels, " I feel happy, grateful and humbled that this has become the highest opener of my career."
'Mission Mangal' delves into the insides of Indian Space Research Organization (ISRO) and brings in front the contribution of female scientists and the efforts they put into making India the first country to reach the Mars in its maiden attempt. Helmed by Jagan Shakti, the film released on August 15.
Akshay Kumar and Vidya Balan are currently basking in the glory of their recently released film 'Mission Mangal'. With the film receiving appreciations from all over the country, the elated actors in an exclusive interview expressed their happiness and much more about the film.

Akshay Kumar was asked on doing films on social issues and whether he fears of getting typecast for doing such films. Vidya interrupted in between and answered the question on Akshay's behalf. "I think Akshay's next film will typecast him, which is 'Housefull 4'. I think the film has the biggest social message," Vidya said jovially.

"Jitni Izzat Kamaayi hai… woh sab nikal jaayegi 'Housefull 4' mein," added Akki.

Coming back to 'Mission Mangal' and films Akshay and Vidya did together. The actors are happy to work together and actually share a great rapport off-screen. Vidya said, "I enjoy working with him. We have worked together after a gap of 12 years. Both our careers have gone in different directions so I thought I don't know how it'll be working together now. But the madness was intact and I love that. I love that he's constantly doing something or the other in between takes. I get inspired and I also try to play pranks on people. I succeed with everyone else but him."

Meanwhile, 'Mission Mangal' is doing wonders at the box office with minting impressive collections at the ticket window. In fact, 'Mission Mangal' has been the highest opener of Akshay Kumar's career and an elated actor feels, " I feel happy, grateful and humbled that this has become the highest opener of my career."

'Mission Mangal' delves into the insides of Indian Space Research Organization (ISRO) and brings in front the contribution of female scientists and the efforts they put into making India the first country to reach the Mars in its maiden attempt. Helmed by Jagan Shakti, the film released on August 15.

[…]