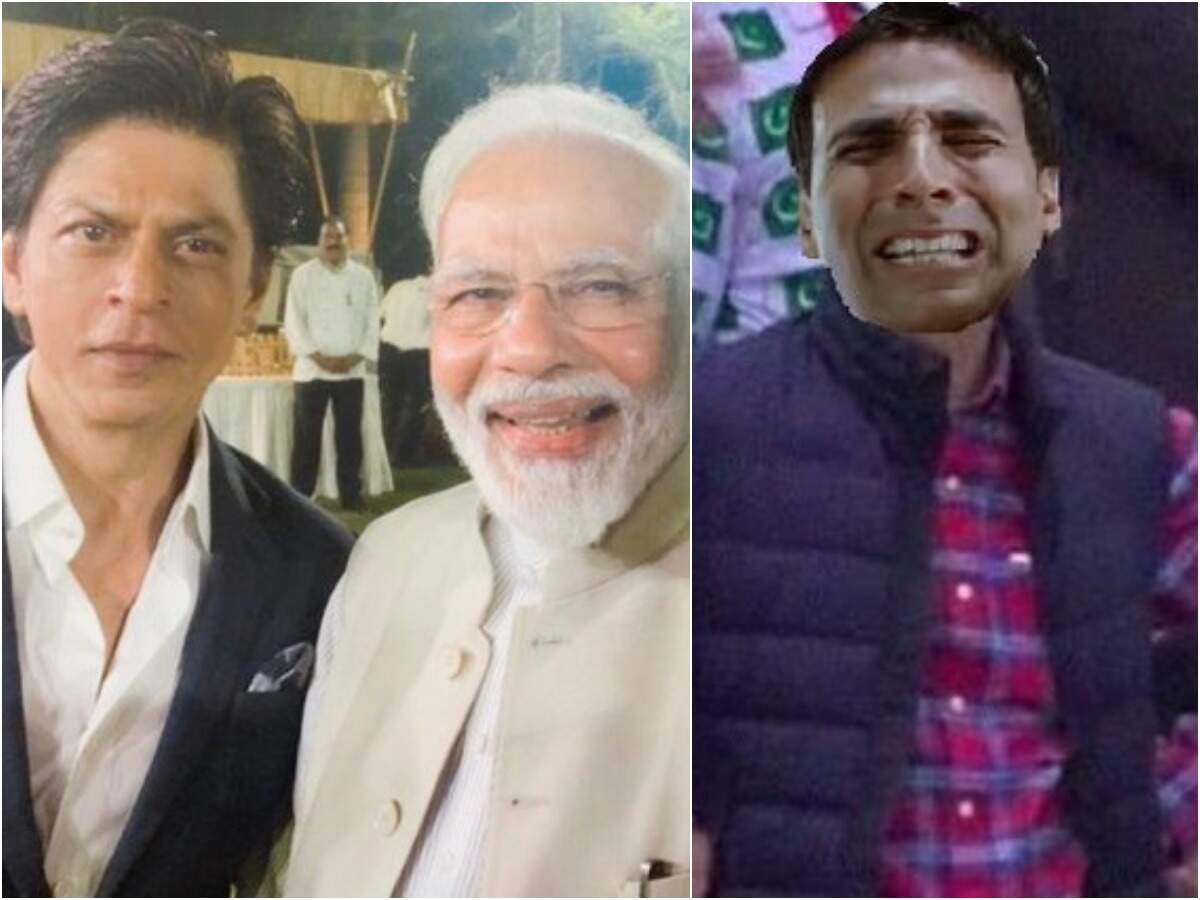 Prime Minister Narendra Modi on Saturday met Bollywood actors and filmmakers to discuss initiatives to mark the 150th birth anniversary of Mahatma Gandhi. Modi met with Bollywood superstars including Shah Rukh Khan and Aamir Khan among others at his official residence and revealed that plans are up to host an international entertainment summit in India.
After the interaction with the Prime Minister, Shah Rukh thanked him for bringing the industry together for such a cause. The actor shared a selfie with PM Modi and Aamir Khan on his social media handles.
Thank u @narendramodi for hosting us & having such an open discussion on #ChangeWithin & the role artistes can play… https://t.co/VpC6e4qcK2

— Shah Rukh Khan (@iamsrk) 1571499927000
The selfie is going viral on the internet, however, tweeple are major missing the face of the Modi government's favourite actor Akshay Kumar in the picture. Akshay had earlier interviewed PM Modi before the general elections and has also openly supported many of the government's ambitious schemes.
The actor was also missing when a bunch of Bollywood's new-gen actors and filmmakers met PM Modi in January this year. However, this time twitteratis have filled the gap with these hilarious memes –
@iamsrk @narendramodi Reaction of Akshay Kumar. ? https://t.co/ZEg0Z0rMYA

— Irfan Anjum ????? (@rolfirfan) 1571511829000
Aamir and Shah Rukh gets invited in a program organized by Narendra Modi. @akshaykumar to modi – https://t.co/GETaLD1Hsm

— a (@samidsiddiqi91) 1571507935000
@akshaykumar jealous? Hmm https://t.co/88hwuPU5dl

— SRK KA WARRIOR??? (@don_sunnik) 1571500596000
Among those present at the meeting were Sonam Kapoor, Kangana Ranaut, Jacqueline Fernandez, filmmakers Imtiaz Ali, Rajkumar Santoshi, Ashwini Iyer Tiwari, Nitesh Tiwari, Anurag Basu and producers Ekta Kapoor, Boney Kapoor and Jayantilal Gada.
Prime Minister Narendra Modi on Saturday met Bollywood actors and filmmakers to discuss initiatives to mark the 150th birth anniversary of Mahatma Gandhi. Modi met with Bollywood superstars including Shah Rukh Khan and Aamir Khan among others at his official residence and revealed that plans are up to host an international entertainment summit in India.

After the interaction with the Prime Minister, Shah Rukh thanked him for bringing the industry together for such a cause. The actor shared a selfie with PM Modi and Aamir Khan on his social media handles.

The selfie is going viral on the internet, however, tweeple are major missing the face of the Modi government's favourite actor Akshay Kumar in the picture. Akshay had earlier interviewed PM Modi before the general elections and has also openly supported many of the government's ambitious schemes.

The actor was also missing when a bunch of Bollywood's new-gen actors and filmmakers met PM Modi in January this year. However, this time twitteratis have filled the gap with these hilarious memes –

Among those present at the meeting were Sonam Kapoor, Kangana Ranaut, Jacqueline Fernandez, filmmakers Imtiaz Ali, Rajkumar Santoshi, Ashwini Iyer Tiwari, Nitesh Tiwari, Anurag Basu and producers Ekta Kapoor, Boney Kapoor and Jayantilal Gada.

Thank u @narendramodi for hosting us & having such an open discussion on #ChangeWithin & the role artistes can play… https://t.co/VpC6e4qcK2 @iamsrk @narendramodi Reaction of Akshay Kumar. ? https://t.co/ZEg0Z0rMYA […]