01

/6

5 times Pulkit Samrat reminded us of Ranveer Singh, thanks to his unique STYLE
{{if user.username || user.id}}
{{:user.name}}
{{else}}
{{:user.name}}
{{/if}}
{{if user.badge}}
{{for user.badge}}
{{if #index

{{/if}}
{{/for}}
{{if user.badge.length > 3}}
{{/if}}
{{/if}}
{{if user.points}}

{{:user.points}}

{{:user.pointsNeeded}} more points needed to reach next level.
Know more about Times Points


{{/if}}
{{if parentusername}}
{{:parentusername}}
{{/if}}
{{if user.location}}
{{:user.location}}
{{/if}}

Just Now
{{if user.username || user.id}}

oFollow

{{/if}}
02/6Hello, twins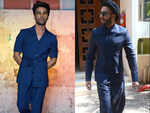 Doesn't Pulkit remind you of Ranveer in this pinstriped suit? Well, it's not the same look but so close still.
03/6Neon all the way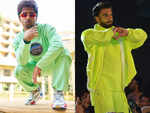 Ranveer Singh's neon tracksuit look by Adidas was a hit and now we saw Pulkit trying to get it right in this light green sweatshirt and tracks bySix5SixStreet.
04/6The casual boys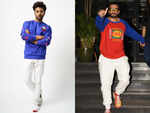 Pulkit's blue sweatshirt and white pant look from Koovs X Manish Arora reminds us of Ranveer's similar look spotted a few days ago.
05/6Who said pink is for girls?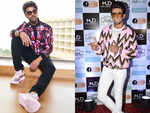 We love Pulkit for choosing pink so often, just like Ranveer. This pink moss bomber jacket from Narendra Kumar Ahmed reminds us of a Manish Arora jacket sported by Ranveer a few months ago.
06/6The silver army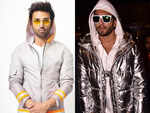 If it's a hue of silver, it looks best of Ranveer because he's the only man who would dare to wear the colour. Well, Pulkit comes close, doesn't he?
[…]